Senior Spotlight
Leaders shine under Friday night lights as season comes to close
Joining band, color guard, the drill team or the cheer team your freshman year of high school can be a terrifying thing.
With the 2017 Coppell High School football season ending with a 35-34 loss to Round Rock Cedar Ridge on Dec. 2, the seniors involved with Friday night lights are saying goodbye to the activities they have enjoyed for four years. From daily practices to summer rehearsals, band members, color guard members, Lariettes and cheerleaders spend hours preparing to showcase their hard work on the field on Friday nights.
Four seniors that have dedicated their first semesters (and summers) of each school year to football games share their stories of friendship, hard work and learning to balance their school work with their time consuming extracurricular activities.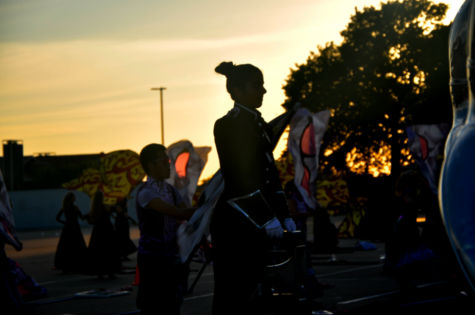 CHS senior Ashna Pathan has been playing the clarinet in band for seven years. She played throughout middle school and knew that she had to be a part of the marching band once she got to CHS.
"I'd always seen the band at so many different events throughout the community," Pathan said. "It was such a grand thing to see such a large organization perform one thing in unison. I instantly knew I had to be a part of it." 
Pathan was a representative her freshman year, squad leader her sophomore year, drum major junior year and is currently the head drum major.
"Previous leaders who were there when I was an underclassman shaped me into who I am now as an upperclassman," Pathan said. "I knew that I wanted to repay that favor and be that leader for the underclassmen once I got the chance."
Band rehearsals take place after school nearly every day during marching season and the summer right before the school year begins.
The band rehearses alongside color guard and the Lariettes for a few weeks every year in preparation for their beloved halftime shows.
"The rehearsals leading up to the performance have always been my favorite part," Pathan said "It's where the magic really happens, and the performances are where we see all of those rehearsals pay off as our show comes together on the field."
Pathan has learned how to balance her packed schedule over the years. Between classes, rehearsals and other extracurricular activities such as being a Red Jacket, spending as much time as possible working during the school day is one of the most important lessons that she has learned.
"I've learned to use every single second I get to work on homework in order to lessen the amount of schoolwork I have left after band rehearsals," Pathan said.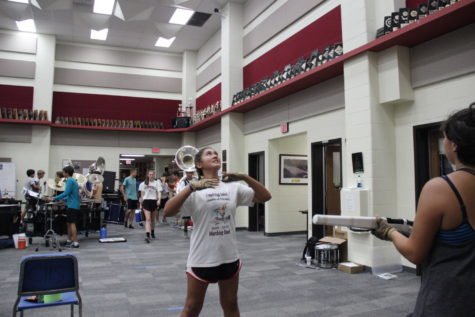 CHS senior Melissa Medel is one of the two senior captains of this year's color guard. Medel has been a member of the guard for four years and has enjoyed her time performing alongside the band over the years.
"I love being a part of color guard because it gets me out of my comfort zone," Medel said. "It's also a great way to meet and get to know other people that love doing the same thing that you do."
Although it may look easy, wielding a rifle and bearing a flag is much harder than it looks. Most guard members spend hours each day as freshmen learning how to throw and catch their props so they can confidently do it out on the field.
They have daily practices during marching season and will begin practicing every other day after winter break.
"Because each middle school has a band program, the band spends less time learning instruments as opposed to learning how to march with them," Medel said. "We spend the majority of our freshman year learning how to hold our flags and rifles because it's such a new and difficult skill to master."
From the moment Medel saw the color guard perform for the first time, she knew she had to be a part of it.
"When I was an eighth grader and my brother was a freshman in band, I went to see him march at one of the games," Medel said. "I got to see color guard perform and fell in love with it immediately. I thought it looked pretty easy at first, but quickly learned otherwise when I joined as a freshman."
Medel is looking forward to the upcoming winter guard season, which will begin after winter break.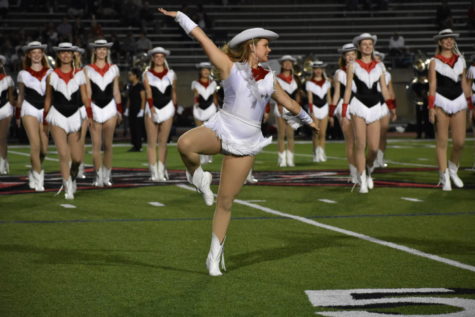 CHS senior Kristen Lason has been dancing since she was 4 and began dancing competitively when she was 8. She devoted countless hours to her craft and dreamed of being a Lariette since she was very young.
Upon entering CHS four years ago, Lason was overjoyed that she could finally do what she loved through school.
"There weren't a lot of activities for dancers in middle school," Lason said. "When I came to CHS, I was able to join a team of dancers while also being an important part of the school by being a part of this spirit group."
Lason was a Silver Star her freshman year and has been a Lariette since sophomore year. Her love for the team and everything that they did over the years made her want to try out for a leadership position.
Lason was the junior lieutenant when she was a junior and is currently the captain.
"I knew that as a team we could do amazing things," Lason said. "I had a desire to be captain because I knew that if I was given that position, I would be able to help us reach that high potential that I know we have."
The Lariettes participate in annual traditions, such as the Lariette Spaghetti Dinner, which takes place before the first home football game every year, and their Lariette sleepover, in which new members are officially "inducted" into the group.
"Getting to dance alongside some of my best friends for such a wide audience week after week is definitely one of my favorite parts [of being a Lariette]," Lason said.
Lason is not currently dancing at a studio in Coppell but plans on continuing to dance throughout college and the rest of her life purely for fun.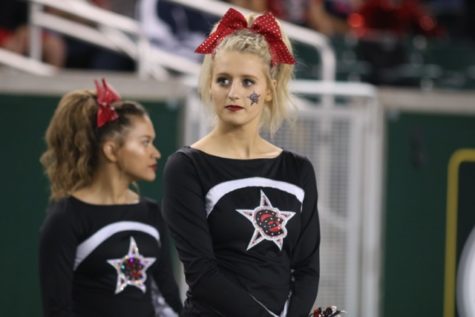 CHS senior Avery Zaves, one of three cheer captains, has been cheering for 12 years. She cheered competitively for eight years before entering high school and decided to stop and focus on CHS cheer her freshman year.
"My favorite part [about being a cheerleader] is being able to grow in my relationships with other cheerleaders and be able to create memories with them over the years," Zaves said.
Zaves learned that keeping her spirits high during games is one of the key components of getting the Student Section to stay engaged during games.
From pep rallies to basketball, volleyball and football games, the cheerleaders get to cheer for the Cowboys and Cowgirls throughout the entire year before preparing for competitions in the spring.
"Getting everyone pumped up and excited at games is what we do, so we try to get the student section to stay positive no matter what's happening out on the field," Zaves said.
The memories Zaves has made with her friends over the years will stay with her forever. From putting on events like Cheer Bingo and Cheer Clinics, the cheerleaders get to spend time together as they cheer for their team and get fans to do the same.
"I'm never going to forget the atmosphere of being on Buddy Echols Field and getting to look up at the crowd at football games as we cheer and get fans excited about the Cowboys," Zaves said.
Although the football season ended for the Coppell Cowboys, these seniors will continue to play, dance, cheer and rehearse for their spring competitions, concerts and showcases.