Vaquero Battle swim meet unites CHS swimmers in fun competition
Unlike most swim meets for the Coppell High School swim team, the CHS swimmers and their coaches were watching their teammates swim with bright smiles on their faces, rather than tenseness, on Friday at the Coppell YMCA, in the Vaquero Battle swim meet.
This meet, unlike most, was not a competition against other high school swim teams, but rather a competition amongst the swimmers themselves, a new idea proposed by Coppell coach Marieke Roberts, who is in her second year of coaching for the swim team.
"Since I've gotten here, I've been working with the depth of the program, and I've been trying to pull up the whole program, and so now I feel there is so many swimmers who are swimming fast, and it's fun to watch them compete against each other," Roberts said.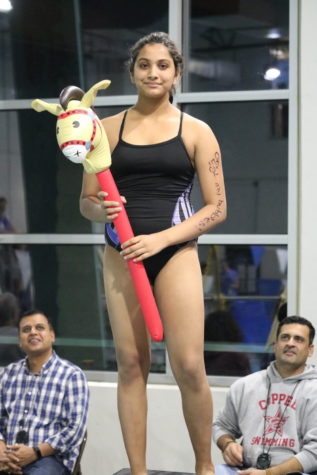 Along with parents, many teachers and students were invited to watch the meet, something not common for normal meets.
"[I] wanted to also get our program a bit more recognized, to make the program a bit more visible to teachers." Roberts said.
Both junior varsity and varsity competed in the 50 butterfly, 50 backstroke, and 100 freestyle.
The overall winners for varsity was seniors Anna Wilcox and Mohit Rao, and the winner for JV was freshman Shreya Tirumala.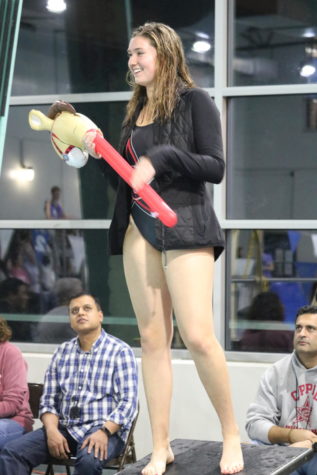 Tirumala scored first place for 100 freestyle, second place in 50 backstroke and first in 50 butterfly.
Rao scored first place in 100 freestyle, 50 backstroke and second in 50 butterfly.
"We train hard everyday, so winning always feels pretty good." Rao said.
Wilcox scored first place in 100 freestyle, second place in 50 backstroke and first in 50 butterfly.
"I feel really good, this is just like a fun game, with everyone here, and so I'm really excited and there's a lot of energy and it's a lot of fun," Wilcox said, following the meet.
Wilcox was not the only one who expressed having fun at the meet.
"It was just a lot of fun to have JV here and the whole team here. Especially as a senior, we get to see freshmen and sophomores and juniors trying to get faster," Rao said.
The swim teams' next meet is Nov. 17-18 in Lewisville at TISCA, which is qualifiers for districts.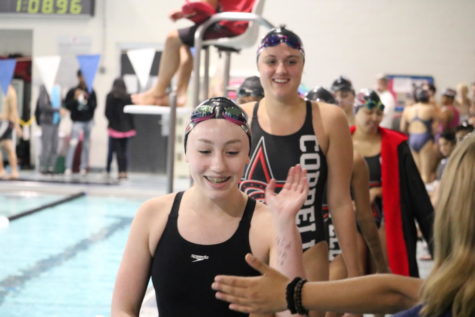 Follow Claire on Twitter @cclements825
About the Photographer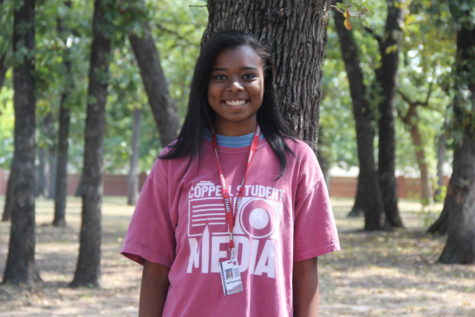 Rylee Ferguson, Staff Photographer
Rylee Ferguson is a sophomore and first year staffer on The Sidekick. In her free time, she enjoys watching movies, spending time with friends and art....