Former CHS student takes passion for writing to next level
"
Aimee was destined to be a writer."
— Matthew Bowden
Drafting, editing, querying, publishing – the road to seeing a novel you put blood, sweat and tears into finally hit the shelves of bookstores is a long one, but Coppell High School graduate Aimee Hyndman managed to complete it.
Hyndman, who graduated from CHS in 2013, went on to double major in Creative Writing and English at Coe College in Iowa, which fueled her fierce passion for writing. She published her first book in 2015 and released the sequel last September. The series, The Clockwork God Chronicles, is planned to contain four books.
The young author has been writing since her tiny toddler fingers could grasp a pencil, and she finished her first cohesive story in third grade. Hyndman's parents, Mary and Peter Hyndman, have always been supportive of her love for writing.
"[My parents] saw that I worked hard enough at [writing] that it could become something," Hyndman said.
CHS creative writing teacher Matthew Bowden, who taught Hyndman in the 10th grade, agrees that she is one of the hardest workers he has ever seen.
"It takes so much discipline to sit down and write a novel," Bowden said. "You don't see a ton of kids with that kind of drive."
She completed the first draft of the book that would get her published in her senior year of high school, edited it a year later and soon proceeded to query her manuscript to literary agents.
Literary agents select authors whose work they love and represent them in the publishing world, helping them land a book deal with a publisher.
When Laura Zats, Hyndman's future agent, called to say she wanted to represent her, Hyndman was in shock.
"My mind blacked out for half the conversation," Hyndman said. "It was so exciting that I barely remember it."
Hyndman has always been a competitive person, which helped motivate her to persevere at writing throughout her life. However, she now believes that her high school self set certain goals for the wrong reasons.
"I wanted to be extraordinary, I wanted to have my first book published by the time I was out of high school, because that's what Christopher Paolini did with Eragon," Hyndman said. "But I got it published two years after high school and, I mean, that's OK. The important thing is that you're proud of the book you publish."
Hyndman certainly has a lot to be proud of – her debut novel, The Hour of Mischief, has an average rating of 4 stars on Goodreads, and its sequel is even more impressive at 4.4 stars. Despite this, she is not satisfied; she has a desire to achieve even more.
"I want to keep improving every time I write a book," Hyndman said. "My books are well reviewed, but a ton of people haven't read them."
Even though she released her second novel less than two months ago, Hyndman refuses to take a break and is already keeping herself busy again with multiple projects. She is currently finishing the fourth book in her series, preparing for National Novel Writing Month, editing one of her old manuscripts and collaborating with her close friends on another novel.
With her stellar work ethic and outstanding writing skills, it is clear to everyone who knows her that Hyndman's chances of success in the publishing world are extremely high.
"Aimee was destined to be a writer," Bowden said.
Follow Pramika @pramika_kadari
About the Writer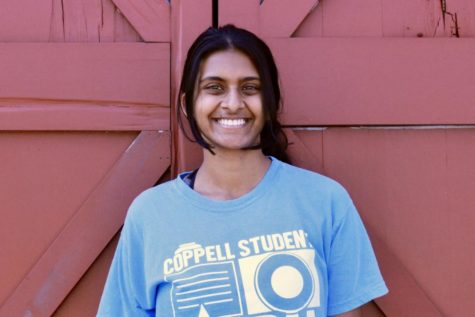 Pramika Kadari, Executive News and Enterprise Editor
Pramika Kadari is a senior and the Executive News/Enterprise Editor on The Sidekick. In her free time, she enjoys reading, writing, watching movies and...