Community comes together through annual Spaghetti Dinner
For the past 28 years, the Coppell High School Lariettes and the Lariette Service Organization (LSO) have hosted a Spaghetti Dinner before the first home football game. Students, teachers and citizens of Coppell all come together before the kickoff of the first home game of the season to support the Lariettes and enjoy delicious food catered by Bistecca Restaurant.
This year's event was bigger than ever with a brand new photo booth, a bake sale, a raffle, a silent auction and plates upon plates of spaghetti. Year to year, the Lariettes and the LSO work hard to make this event as fun and enjoyable for every attendee as they can.
The Spaghetti Dinner is the biggest fundraiser that the Lariettes put on. Every member and their parents put in hours of preparation in order to make it happen.
"[The Spaghetti Dinner] is a wonderful thing to have because we put all of our efforts in over the summer and it benefits the Lariettes throughout the year," LSO public relations head Ann Lason said.
Over the years, this event has become a community favorite as it attracts community members of all kinds.
"One of the things that doesn't change is the camaraderie that everyone feels and the excitement of doing something like this before a football game," LSO president Lorraine Carroll said.
Elementary, middle and high schoolers alike love attending this event to support the Lariettes and get to spend time with their friends before the big game.
The Lariettes themselves share the sentiment.
"I love seeing a lot of familiar faces come and support the Lariettes," Lariette senior lieutenant Sarah Wales said. "It's always a big tradition and it's so much fun to see all of our friends, family, and community support us."
The Lariettes are hosting their annual Lariette Clinic on Sept. 24. The Lariette Clinic is an opportunity for young girls to learn dances and perform on the field alongside the Lariettes before a home football game. Tickets can be purchased online at www.chslariettes.com.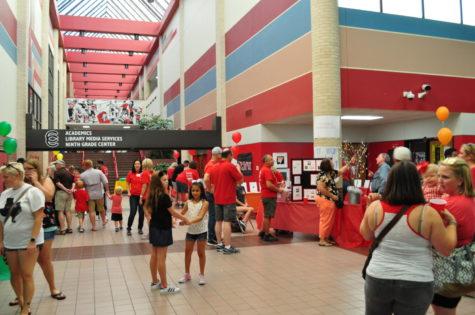 Follow Jess @jessicamh13