Deep ball leads Cowboys to convincing win over L.D. Bell (with video)
BEDFORD – Utilizing its dominating offensive line, skilled running backs and agile wide receivers, the Coppell Cowboys came out with the win last night against the L.D. Bell Blue Raiders, 58.23, at HEB Pennington Field.
 CHS senior Gabe Lemons returned the opening kickoff for 45 yards, putting the Cowboys in good initial positioning. The Cowboy offense then make a series of short receptions, ending with a touchdown by running back Ryan Hirt. This gave Coppell a lead that continued to grow throughout the game.
The Cowboys (1-0) often utilized long passes and runs in order to make their way down the field. Early in the second quarter, Hirt scored on an 87-yard touchdown run, expanding the lead to 24-7. Later in the second, quarterback Brady McBride hurled a 40-yard pass to junior running back Blake Jackson for a touchdown.
This clearly identified the long-ball offense as a threat to the Blue Raiders (0-1).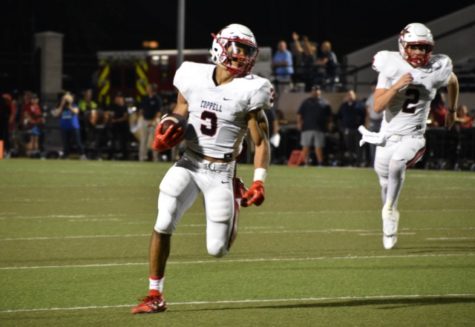 Led by junior cornerback Jonathan McGill and inside linebacker Nnamdi Ogbogu, the Cowboys defense held the Blue Raiders offense in check. McGill returned an interception for a touchdown early in the first quarter and Ogbogu ended the game with five unassisted tackles.
However, there is always room for improvement both on the offensive and defensive fronts.
"To get better on defense, you can always improve on communication," McGill said.
The Cowboys host McKinney Boyd on Friday at 7:30 p.m. at Buddy Echols Field.