Night for Nepal fundraiser brings fun to community for a good cause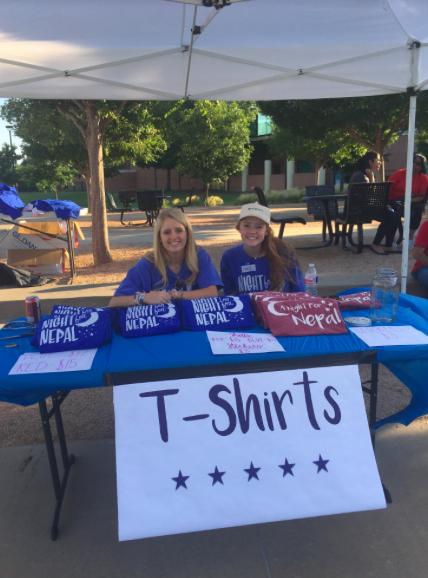 Hang on for a minute...we're trying to find some more stories you might like.
Coppell residents and students gathered on Saturday evening at 6 p.m. at Town Center Elementary to fundraise for Night for Nepal, an organization working to raise money for schools in Nepal after the devastating earthquake two years ago.
The night included a bounce house, snacks, raffles, as well as performances from Coppell High School students all to raise money for the cause and make the night enjoyable for everyone who came.
"I want to give every one of my friends who helped to make this fundraiser possible a huge shout out," said CHS junior Kritima Lamichhane, who is also the creator and president of the organization. "We raised a lot of money and sold over 150 [raffle tickets]."
The raffle prizes included a Kendra Scott jewelry set, Samsung tablet as well as a flat screen television, which some lucky community members got to take home with them.
The night included performances from CHS students, two of which were juniors Aryan Bhatnagar and Kennedy Carver who sang the song "Little Things" by One Direction.
"Night for Nepal has really given all of us insight on the dilemmas of third world countries which makes you want to do whatever you can to help those who are in need," Bhatnagar said. "I am glad I got to be one of the performers tonight and did something to help out."
CHS junior Kristen Lason was in charge of the raffles and was more than happy to see the amount they sold and the animated faces of the raffle winners.
"It's just a really great cause and Kritima is one of my really good friends so getting to help her out and create the expectations she had set for this fundraiser was great," Lason said.
CHS junior Sara Wales, who was in charge of the bouncy house at the event, said her favorite part of the night was getting to explain to the children who came out what the night was all about.
"It was a great opportunity to tell the community what's going on around the world and how awesome it is that we have the power to do so much to help," Wales said.
The night concluded at 11 p.m. Night For Nepal funds will be going towards building a library for a school district in Gurkha, Nepal in support of Nepali students.