New leadership coming for CGA Creative Writing Competition
Elementary school restroom concern also addressed at April board meeting
Monday evening, the open forum portion of April's Coppell ISD Board of Trustees meeting featured speakers describing an elementary school situation, Creative Writing Competition leadership switch and a Coppell bus driver's concern.
The open forum portion of the meeting began with Grady A., a fourth grader at Valley Ranch Elementary School.
"This year we have had a problem with our bathrooms," Grady said. "Students have been pooping on the floors and one time wiped it all over the walls. This is a problem because it is gross. We have to now use the buddy system, and we no longer have any privacy. The buddy system wastes precious learning time from the classroom, and it is unfair to the janitors to clean this up."
Instead of the buddy system, Anderson proposed the school use security camera's to catch the culprit.
Coppell Gifted Association Creative Writing Competition supervisor Elizabeth Chappell announced this was to be her last year to participate in the competition, and read a poem by a seventh grader in CISD.
Bus driver Tracy Denton spoke about the disadvantages for the bus drivers in CISD, and how switching over will affect items such as their pay and benefits.
"While the Durham offer flashed in front of us, a $3,000 sign on bonus, and a $2-an-hour increase, after attending a meeting we discovered that the $2-an-hour increase would be basically negated, because our minimum hours will be reduced from six minimum hours for morning and afternoon rout to four minimum hours morning and afternoon route," Denton said. "So essentially, anything we've gained in pay increase, we've negated by losing hours. $3,000 sign on bonus comes with unfortunately a lot of strings, and should be called something quite different."
Resident Venky Venkatraman also spoke during the open session, raising concerns about who is in charge in Coppell ISD as it pertains to the superintendent and school board. Venkatraman also expressed his hopes for new faces on the board following May's election.
All board meetings are fully archived on the Coppell ISD website to access.
Editor's note: This headline was revised on April 27 and the story was revised April 28.
About the Writer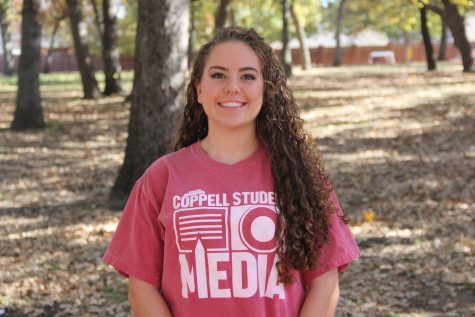 Hannah Tucker, Staff Photographer
Hannah is a sophomore at Coppell High School and is a first year photographer for The Sidekick newspaper. She is a second year member of the Coppell Color...