Enjoy nature, food trucks, live music at Coppell Art & Music Festival to take place this Saturday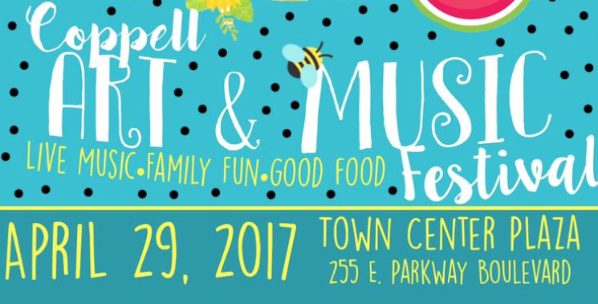 On Saturday, Coppell High School students in the International Baccalaureate (IB) program are hosting the Coppell Art & Music Festival in the Coppell Town Center Plaza.
This family friendly event is open to all, including pets, who wants to enjoy a day outdoors filled with music, people and entertainment.
Admission is free to the event and will last from 1 to 5 p.m. but food and event T-shirts are available for purchase.
"I am most excited for Steel City Pops and the couple of food trucks we got in touch with," member of food and activities team CHS junior Maya Garg said. "The event took a reasonable time to organize and I am sure it will be a success,"
IB is an academic program at CHS offered to students in 11th and 12th grade. Students are hosting the event as their CAS (Creative, Activity, Service) project, a requirement to graduate from the program.
According to the event's website, "The festival aims to celebrate the City of Coppell and showcase the talents of its citizens while raising money for student-led non-profit organizations."
The committees organizing the event are comprised of about 30 students. This year will be the second year IB has hosted and organized the event.
Student coordinators of the event have worked during the last couple of months organizing the food and activities, promoting the event and fundraising money.
Activities at the event include live music, face painting, fiber art, sidewalk chalk, cake walk, Zumba class, raffle, silent auction and beach volleyball.
Visit the event's facebook page for updates leading up to the event.