Track team dusts up District 9-6A competition to sweep meet
DALLAS – Coming around the final turn of the boys 4×200 relay, Coppell senior Josh Freeman could feel the Skyline athlete coming up right on his heels. Arms pumping, baton in hand, Freeman gave the final stretch of the race every ounce of energy he had, winning by .05 seconds.
This win, one of 12 first place finishes by a Coppell athlete or relay team, helped lead both the boys and girls track team to place first in the District 9-6A Meet at Jesuit College Preparatory School of Dallas on Tuesday.
"I was just thinking 'I've got to finish,'" Freeman said. "I almost got a cramp, but I had to keep going. I said, 'This is in my hands, so whatever happens to me is the whole team.'"
Freeman's finish is just one of the number of points that the team picked up on the track. With the clean sweep of the meet, Coppell placed in the top six in every varsity event, and placed in the top four in all but one.
"It's a big win," Coppell coach Karl Pointer said. "It's a confidence builder. We've been against good competition all year, and that's just kind of put us where we need to be. The team win is great."
Coppell picked up numerous points in the field events, including taking the top three spots in girls shot put and girls pole vault. The girls racked up 112 points in the field events alone, while the boys added 45 to their points total.
Junior Rachel Okereke again led the girls squad, winning District 9-6A in the high jump and placing third in long jump. Freshman Lauren Kellet also had an outstanding meet, as she placed first in both triple jump and long jump. In all, the boys and girls team had 19 different qualifiers for the area meet in the field events had the teams not placed in the top four.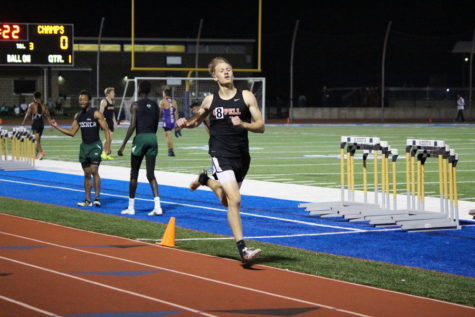 On the track is where the boys side was able to take control of its lead. Senior Zach Dicken finished in the top three in the 200 and 400 and was a member of the 4×400 relay that placed second. Of the six boys and girls relays, Coppell placed in the top four in each one.
"For us, it's continuing to do what we're doing," Pointer said. "We've gotten better each week as we've gone through, and for us, we just need to continue that. We need to get the rest we need now. Now, it's a matter of attrition, who can survive and who can make it through. It's a matter of staying healthy."
Up next for the District 9-6A champions is the area meet in Garland on the weekend of April 21, where the 9-6A winners will take on athletes from the Garland ISD high schools.
"It gives us a lot of confidence," Freeman said of the district sweep. "We're the No. 1 team going into the next meet at area, and this is going to really help us."
Below is a full list of results from Coppell athletes who placed:
Girls
100m dash
Rachel Okereke (11th grade) fourth place; 12.77
200m dash
Rachel Okereke (11th grade) third place; 26.24
400m dash
Sikyra Castle (9th grade) third place; 1:00.32
Lauren Cunningham (12th grade) fifth place; 1:00.49
Kaitlyn Hernandez (11th grade) sixth place; 1:01.26
800m run
Ashley Scrivner (12th grade) second place; 2:26.35
Alexandra Saunders (11th grade) third place; 2:27.16
Sydney Rowe (9th grade) fourth place; 2:28.81
1600m run
Madeline Hulcy (10th grade) second place; 5:20.28
Isabella Isley (9th grade) third place; 5:29.30
Sydney Rowe (9th grade) fifth place; 5:37.81
3200m run
Madeline Hulcy (10th grade) second place; 11:38.14
Isabella Isley (9th grade) third place; 11:47.66
Shelby Spoor (9th grade) fourth place; 12:11.19
100m hurdles
Rebecca Copple (11th grade) second place; 15.98
Victoria Kellett (12th grade) fifth place; 16.85
300m hurdles
Rebecca Copple (11th grade) third place; 48.29
Sara smith (12th grade) fourth place: 48.71
4x100m relay
Amarachi Osuji (10th grade), Lauren Kellet (9th grade), Lauren Cunningham (12th grade), Kaitlyn Hernandez (11th grade) fourth place; 50.60
4x200m relay
Sikyra Castle (9th grade), Amarachi Osuji (10th grade), Lauren Kellet (9th grade), Rebecca Copple (11th grade) second place; 1:44.16
4x400m relay
Lauren Cunningham (12th grade), Sikyra Castle (9th grade), Kaitlyn Hernandez (11th grade), Amarachi Osuji (10th grade) third place; 4:16.15
High jump
Rachel Okereke (11th grade) first place; 5-00.00
Julia Vishnesky (10th grade) fifth place; 4-10.00
Pole vault
Rebecca Fuselier (11th grade) first place; 11-03.00
Emily Pridgen (12th grade) second place; 10-09.00
Lauren Stukey (10th grade) third place; 9-00.00
Long jump
Lauren Kellet (9th grade) first place; 16-08.00
Rachel Okereke (11th grade) third place; 16:02.50
Triple jump
Lauren Kellet (9th grade) first place; 36-07.50
Sara Smith (12th grade) third place; 32-04.00
Shot put
Claire Barden (12th grade) first place; 37-10.00
Nicole Obialo (9th grade) second place; 35-08.00
Pierce Woodall (10th grade) third place; 33-08.50
Discus
Chidera Nwaiwu (12th grade) first place; 102-02
Claire Barden (12th grade) second place; 96-05
Nicole Obialo (9th grade) fifth place; 85-09
Team score: first place; 242
Boys
100m dash
Timmie Heard (12th grade) second place; 11.22
Josh Freeman (12th grade) third place; 11.27
200m dash
Zach Dicken (12th grade) third place; 22.72
Timmie Heard (12th grade) sixth place; 23.30
400m dash
Zach Dicken (12th grade) second place; 48.33
Andres Abrego Guerra (12th grade) sixth place; 51.28
800m run
Alan Huo (12th grade) first place; 1:56.72
Andres Abrego Guerra (12th grade) fourth place; 2:00.92
Tyler Briscoe (12th grade) fifth place; 2:02.60
1600m run
Nathan Sims (12th grade) fourth place; 4:32.61
Grant Reese (11th grade) fifth place; 4:36.33
3200m run
Nathan Sims (12th grade) second place; 9:55.91
Grant Reese (11th grade) fourth place; 10:00.16
Garrett Freddo (10th grade) sixth place; 10:21.85
110m hurdles
Carson Reynolds (12th grade) second place; 15.28
Phillip Frank (11th grade) third place; 15.45
300m hurdles
Carson Reynolds (12th grade) first place; 39.79
Phillip Frank (11th grade) fifth place; 40.54
4x100m relay
Josh Freeman (12th grade), Gabriel Lemons (11th grade), Matt Dorrity (12th grade), Timmie Heard (12th grade) second place; 42.55
4x200m relay
Christian Leffingwell (10th grade), Matt Dorrity (12th grade), Gabriel Lemons (11th grade), Josh Freeman (12th grade) first place 1:28.69
4x400m relay
Christian Leffingwell (10th grade), Matt Dorrity (12th grade), Gabriel Lemons (11th grade), Zach Dicken (12th grade) second place; 3:24.37
High jump
Phillip Frank (11th grade) sixth place; 5-10.00
Pole vault
Trever Larson (12th grade) first place; 14-06.00
Jacob Fink (11th grade) sixth place; 11-06.00
Long jump
Matt Dicken (11th grade) fourth place; 21-04.50
Gabriel Lemons (11th grade) fifth place; 21-02.00
Phillip Frank (11th grade) sixth place; 20-07.50
Triple jump
Gabriel Lemons (11th grade) second place; 44-11.50
Matt Dicken (11th grade) third place; 44-02.00
Shot put
Brian Dashner (10th grade) fourth place; 44-06.50
KK Moe (10th grade) fifth place; 44-06.00
Discus
Jay Dempsey (10th grade) fourth place; 131-04
Wyatt Klawiter (10th grade) fifth place; 125-02
Team score: first place; 188