Attack overwhelms Lakeview Centennial in bi-district victory
DALLAS — Darting around quickly with speedy combination plays and great pace, the attack of the Coppell boys soccer team wasted no time getting to work on Friday against Garland Lakeview Centennial.
After scoring 19 goals in its last three games, the attacking unit swarmed the final third like bees, deluging Lakeview Centennial with shots in a 4-1 Class 6A Region II bi-district playoffs on Friday night at Highlander Stadium.
Following the win, the Cowboys will go head-to-head with The Woodlands, Top Drawer Soccer's No. 9 team in the state. The match is tentatively scheduled for 6 p.m. on Thursday, March 30 at the University of Mary-Hardin Baylor.
The multitude of chances created in the final third came right from the very start. From the first minute, it was evident senior wingers Jacob Capdevila and Nick Taylor were overwhelming for their Lakeview Centennial defensive counterparts; Capdevila nearly assisted on two goals in the first four minutes of play, while Taylor scored nine minutes in and narrowly missed a second goal a mere two minutes later.
"Last year we had a slow start to our first playoff game," Taylor said. "This year, we wanted to start strong. That just kind of set the tone for the rest of the match."
After creating numerous scoring opportunities in the first several minutes and finishing one in the fourth minute, Lakeview Centennial scored on its first shot on goal, a header off a corner kick, sucking the momentum entirely out of Coppell's favor. While Taylor's goal regained the lead and partially the momentum, the offensive firepower the Cowboys found early on was not sustained through the remainder of the first half.
"Tonight, you saw spurts of brilliance," Coppell coach Chad Rakestraw said. "You had spurts of the game where we were unstoppable. Then you had spurts of the game where we kind of lulled off and let them come back into the game. We've just got to be able to find a little more consistency within that."
After junior forward Wyatt Priest, who was dynamic in the attack in the first several minutes, left the match with a lower body injury, the Cowboys offense fell into one of its lulls, failing to create as well as it had with Priest on the pitch. Yet in the second half, with the help of a goal and aggressive attacking presence from junior forward Moe Saif and others, the ship righted itself.
"We just clicked," said Saif of the second half. "We all play together five times a wee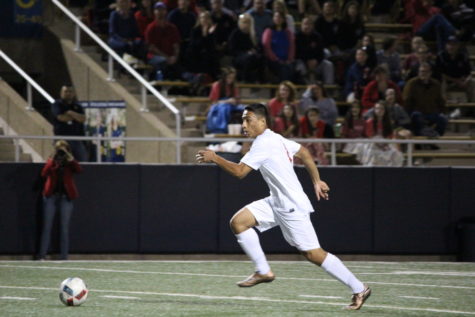 k in training, and we have good chemistry. We were able to [come together]."
For Saif, junior midfielder Bennett Hunter other substitutes, it was simply about stepping into the match and performing each individual role, not about one individual player.
"We've got a lot of guys that can play," Rakestraw said. "For us it's like 'next guy up'. Moe gets in there, and he steps in and plays that role, and he's able to score later in the game. For us it's not so much about Wyatt getting hurt, it's just about getting fresh legs in there and he was able to do his job."
While constant pressure in the attacking half led to the four goals for Coppell on the night, the Cowboys created more than a few chances to score that were not finished. Playing state No. 9 The Woodlands next week, being able to finish a limited number of opportunities could be key.
"We've just got to finish more opportunities," Rakestraw said. "There's going to be games where you only have a few opportunities, two or three opportunities, we've just got to be a little more efficient there."