Baseball team manager manages more than the sport, bolsters team with skill
Coppell High School sophomore Christopher Jackson was not nervous. However, walking to the plate in a Coppell baseball game for an at-bat was a new experience.
Jackson serves as the team manager for the Cowboys baseball team. But once last season, Coppell coach Nate Blackwell let him take his chances in the batters box.
Yet as team manager, Jackson is fit for the role and has what it takes to support his team in all ways, not just on the field.
Jackson's job is to get the foul balls and bats at the games, while also helping out the team with drills in practice.
He was named team manager because his older brother, 2015 CHS graduate David Jackson, had also been manager.
"His older brother came through and did the same job, they both are excellent at everything," Coppell baseball coach Kendall Clark said. "Getting equipment out, knowing the drills that we do, a lot of times they run the drills."
Although he does not play in the games, he still makes sure that everything he does is the best and his loyalty to the team never wavers.
"I got to have an at-bat because I got every single foul ball," Jackson said. "Coach Blackwell said that I could have one at-bat. I got walked and I stole second."
His teammates feel comfortable with him, and appreciate everything that he does for the team.
"With Chris being the manager, it helps a lot because he helps out the team by getting the buckets and picking up balls for us," sophomore left fielder Dylan Nichols said. "He just contributes a lot to the team."
He has been watching baseball since he was little, and then wanted to play it. He started playing in T-ball, and has been playing ever since.
"Knowing the game of baseball really well, it helps us immensely because we don't have to tell him stuff, he just knows what needs to be done," Clark said. "He's able to be a manager but he's also another coach, like an extension. He does an excellent job of all those things that a coach would do."
Jackson's teammates like having him around and they like him. They think he is a nice and supporting person who helps with drills and cheers for them at practice and games.
"We've got the ability to have a coach that can mix with the players but he also can be a manager that mixes with the players," Clark said. "They really think a lot of him and they appreciate his efforts."
Jackson is known for his many qualities on the team.
"He's a really good morale booster, showing up to practice every day," junior pitcher Rye Gunter said. "He's always cheering people on in the dugout and during practice, he'll pick you up if you're feeling down."
He likes being the manager and helping the environment of a team. He plans on attending New Mexico State and taking part in the baseball team in some way. Beyond college, he wants to become a firefighter because of his childhood dreams.
"I like the team, and it's fun to be at the games supporting the team," Jackson said.
Follow Sofía on Twitter at @sofia_i_g
About the Contributors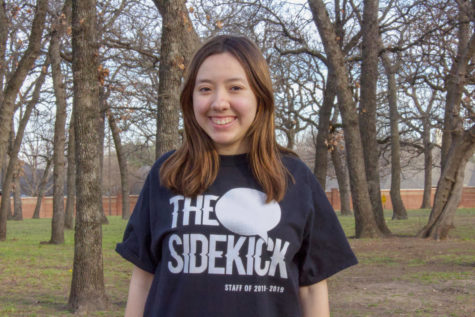 Sofia Guerrero, Co-Student Life Editor
Sofia Guerrero is a senior third-year staffer and the Co-Student Life editor for The Sidekick newspaper. She is an aspiring journalist and pianist and...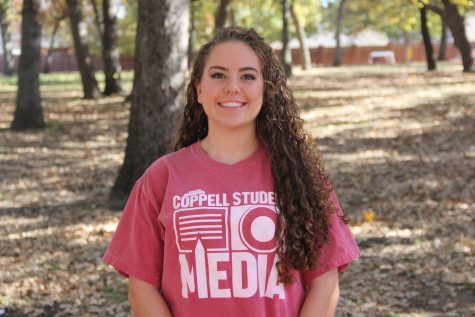 Hannah Tucker, Staff Photographer
Hannah is a sophomore at Coppell High School and is a first year photographer for The Sidekick newspaper. She is a second year member of the Coppell Color...