Buddy Echols Field dominance capped with season's largest margin of victory, district championship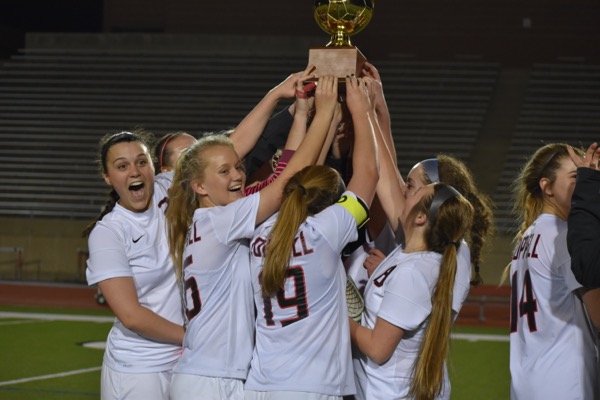 This season has been one of many ups and few downs for the Coppell girls soccer team. Buddy Echols Field has been a safe haven, as the team has posted a plus-30 goal differential this year at home. And on Tuesday night, in the final home match this year, the Cowgirls handily took down Skyline, winning 13-0, ending their reign at Buddy Echols Field on top and capturing the District 9-6A Championship.
While this season's lone "blemish" came at home in the 1-1 tie to Richardson Pearce on Feb. 21, the senior night match was spotless for the Cowgirls. Their style of play in the attack clearly outmatched Skyline, and they showed it, scoring nine goals in the first half alone, including two apiece from senior forward Tori Teffeteller, junior forward Ryley Andrews and junior forward Micayla Weathers, as well as an own goal by the Lady Raiders.
"We've been working on some things, and tonight it kind of came together," Coppell coach Ryan Dunlevy said. "Skyline looked better than the last time we played them. Our girls have been paying attention to those small things and paying attention to those details that make a big difference for us, and you saw that tonight."
In the second half, Coppell remained in attack mode at the beginning, with senior defender Sarah Houchin scoring in the first minute of the half. After sophomore defender Katie Odum scored on a great strike from 30 yards out, Teffeteller notched her third goal, completing the hat trick in her final match at Buddy Echols Field en route to locking up first place in the district.
"It's a very surreal feeling, especially since it's all coming to an end for me as a senior," Teffeteller said. "I feel incredible because we're a very deserving team, we work very hard. To come out here and grind and do what we love be able to work together and be a team and come out with a victory like this constantly, it's a great feeling."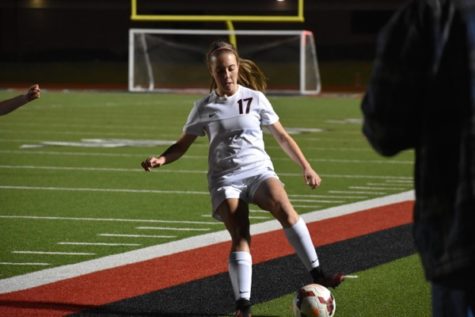 With one match remaining on Friday against Richardson, the Cowgirls have begun gearing up for the playoffs. Even though they have yet to lose a match, Dunlevy still has found some areas to clean up before their playoff run begins.
"We need to continue to improve on some of those little things," he said. "We have to make sure we finish our opportunities and continue to play at a high level. We can't peak too early. We need to continue to go and press as we go forward."
Yet even so, there was little to be displeased with as the group of eight seniors went out in style.
"Our seniors our leaders," Dunlevy said. "They set the precedent tonight. Tonight was about the team, but it was also about our seniors career, and their time here and all the great things they've accomplished."