Healthy success: HOSA students garner ten awards at competitive area conference
From creating poster boards on medical innovations to taking tests on clinical speciality to presenting a scrapbook on the club's experience over the year, the Health Occupational Students of America (HOSA) club allows participants to explore a diverse set of medical concepts.

While the club involves volunteering throughout the year for a Barbara James Service Award, gaining real world experience in medical fields through shadowing, or conducting fundraisers, a major component is preparing for and participating in competitive events.

"Being in HOSA has definitely helped with many skills that I can utilize in the future," CHS sophomore Ishita Rastogi said. "For example, [in my teamwork competitive event] I learned to be professional, communicate, and had opportunities to pursue health related interests."

On Feb. 17 and 18, 93 Coppell High School students attended the Area HOSA competition, competing against more than 50 schools at Centennial High School in Frisco. Nineteen members of the CHS team advanced to the state competition with several others winning awards.

"Area HOSA was really exciting," said Michelle McDowell, who co-sponsors the CHS HOSA club with Marta Eitelman. "We are really proud of our students and how they prepared. It just really shows the hard work that these students put into [preparing] using their own time, because no school time was given. I was really proud and it was a great experience."

For CHS freshman Puja Bhat, attending the area competition for the first time allowed her to build her confidence and a goal for the future.

"It was a good experience," Bhat said. "I thought it would be much harder than it was. It was actually much less nerve wracking [than I expected]."

Finding out results at the end of a tiresome two days of events, sometimes with multiple rounds, was a much anticipated event for members. Some experienced a disappointing loss, others an unexpected award, and many a renewed vigor for future years.

"I felt excited [after finding out results]. It was pretty awesome considering I never even thought of placing," Bhat said. "But then, I could have gotten to state if I had gotten third place, so that was disappointing."
The following Coppell students won awards at the competition.
4th Place in Prepared Speaking: Saket Ashar (10)
4th Place in Clinical Specialty: Puja Bhat (9)
4th Place in Health Education: Arushi Garg (10), Rhea Mehta (10), Rithvik Gunda (10)
4th Place in MRC Partnership: Abhi Cherukuri (10), Nilesh Kodali (10) Yash Sharma (10)
5th Place in Medical Innovation Advancement: Abhilash Vanam (11), Jerry Gao (10), Michael He (11) Yash Reddy (11)
The following students advanced to the state competition, which will be held in Corpus Christi from March 31 to April 1.
1st Place in Biomedical Debate: Drishtant Gupta (11), Shawn Tack (11), Zak Cherif (11)
1st Place in Medical Innovation Original: Bhaash Pathak (10), Joseph Koh (10), Tanmay Karandikar (10), Sumedh Chilakamari (10)
1st Place in MRC Partnership: Aarya Rao (11), Karan Uppal (11), Naman Adenwala (11), Prayusha Pandey (11), Vikram Murugan (11), Vishal Patel (11)
2nd Place in Health Education: Akila Muthukumar (10), Ishita Rastogi (10)
4th Place in Chapter Reflection: Megan Goyal (12), Vijitha Kantety (12)
Students who advance from state will attend the National Leadership Conference from June 21 to 24 in Orlando.
About the Contributor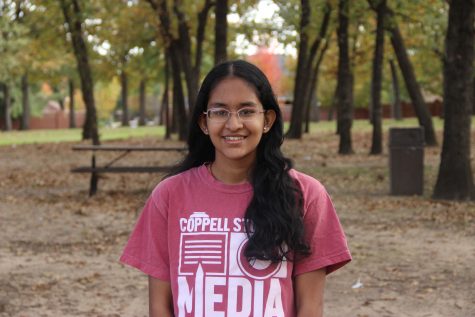 Akila Muthukumar, Staff Writer
Akila Muthukumar is a sophomore who loves writing, dancing and learning new things. You can contact her at [email protected]