Despite loss of playoff berth, Cowboys win season's final game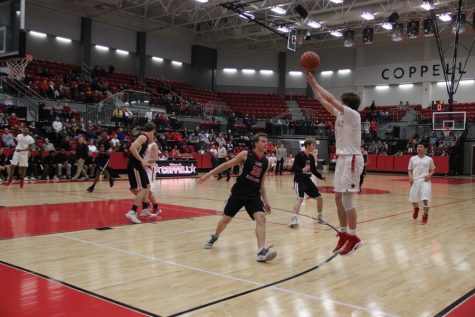 With the season in the balance on Tuesday night, the Coppell boys basketball team needed a win and a Richardson Berkner loss to move on to the playoffs.The Cowboys still held up their end of the bargain in the senior night game, ending with a 60-46 Coppell victory over Lake Highlands at the CHS arena.
Yet, Richardson Berkner (19-12), in defeating Richardson Pearce 58-45 on Tuesday night, secured the fourth and final playoff spot from District 9-6A. While both the Rams and Cowboys (14-10) finished with a district record of 8-6, Berkner won the two head-to-head matchups with Coppell, winning the tiebreaker.
"We learned that before we went in, so that's what I've been discussing with them," Coppell coach Kit Pehl said. "It was a hard conversation."
Yet, the fight was still there in the final home game of the season, with senior shooting guard Christian Plummer setting the tone early with his scoring. The Cowboys were able to create a lot of turnovers by beating pressure defenses by quickly seeing who was open and passing the ball before a defensive player could come in and steal it.
"Our emphasis all week was to impose our will defensively on them and we did a good job right from the start," Pehl said. "Our pressure really got to them and we got a lot of transition opportunities that our defense turned into offense."
The Cowboys were successful in the fastbreak and it allowed them to create a big lead because there were many blocked shots and turnovers that they turned the other way into quick points. There were many points where Lake Highlands would try to shoot the ball but the Cowboys were quick enough to block it. This led to Lake Highlands missing a lot of points it could have scored if the Cowboys had not been in the right position.
It was a tumultuous season full of injuries, and that through all the adversity, the Cowboys were still almost able to crank out a playoff spot. Yet, in the end, it was not meant to be.
"I thought we were really up and down," Pehl said. "We stuck together through the thick and thin, so I'm really proud of them for that."