Celebrating self love on Valentine's Day
Finding the key to your own heart
A holiday that celebrates romantic love can often be brutal for those who are single.  
A statement that with just a little courage, a little chocolate and lots of self love I was able to prove wrong.
As a woman who proudly flaunts single life, the idea that singles would be left sad, at loss or incomplete on Valentine's Day left me discontented. Is the celebration of love so limited? Is it possible that loving oneself could be equally as glorified as loving a partner?
Love yourself on a day celebrating the ones you love. It did not sound hard, until I actually tried to do it.
First stop: Flowers
A blossoming relationship….with myself.
I have never understood the allure of receiving flowers. That is, until I went and purchased some myself.
The act of purchasing or gifting something for myself had never felt so foreign than when I was standing alongside lovestruck individuals. Aisles that once were inviting now intimidated me. While husbands, wives, boyfriends and girlfriends scrambled to choose the perfect bouquet for their partners, I felt as if I was left with the most difficult task: treating myself.
But why?
Although I was not originally a fan of floral expressions of love, there was a certain empowerment in buying something beautiful for myself without having someone to buy it for me.
With roses and a bag of chocolate in my hands, I found myself leaving with a newfound happiness. A new relationship had begun to blossom. With none other than myself.
Second stop: Food
The greatest gift to receive: a full stomach.
A lavish, candlelight dinner is a popular norm where food is concerned on Valentine's Day. But if I was to truly indulge, I felt it was only appropriate to make a stop at my favorite pizzeria. So after calling up an old friend and dressing up a little too formal, I headed out for a night of good pizza, small conversation and love.
My expectation of receiving judgmental glances sitting in a room full of couples was disproven. People were only concerned about two things at the moment: love and pizza.
I was reminded that Valentine's Day celebrates love of all kinds. Whether you're giving yourself love, or sharing it – it is all love and it is all welcomed.
Third stop: Home
Me, myself and I.
I ended my journey with two simple things: my laptop and my dog, Luna. It may not be glamorous but with some Netflix and alone time, my mission felt accomplished.
I have learned that in spite of the extreme focus society places on romantic relationships during Valentine's Day, I am more than adequate celebrating it on my own. In fact, by spending it alone I have learned that loving yourself is not only essential to your well being, but also your ability to spread love to others.
So I propose a new mission: to make everyday, not just Valentine's Day, a shameless celebration of self love.

Hang on for a minute...we're trying to find some more stories you might like.
About the Writer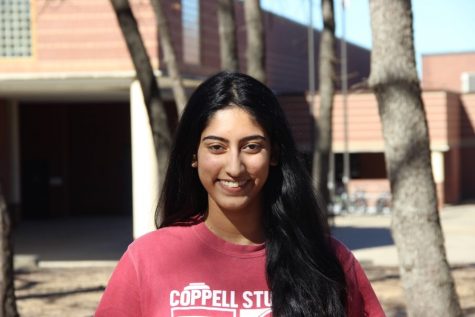 Briana Thomas, Staff Writer
Junior, Briana Thomas, is a South Asian writer whose stories are unfiltered outlets that voice her passions, opinions and beliefs. Briana is intrigued...