Conquer an exciting meal: unique Mongolian dining experience at Genghis Grill
Genghis Khan established the largest land empire in history during his time leading the Mongols. Perhaps this was due to his ability to unite nomadic tribes or his ruthless, fierce nature during battle.
But maybe, just maybe, a small part of his grand success can be attributed to eating such excellent Mongolian cuisine.
The nearest Genghis Grill is located at 4201 Beltline Rd. in Addison, making it a bit of a drive for Coppell residents, but well worth it.  
The decor of the restaurant includes Mongolian artifacts such as flags and dimmed lights that all contribute to a solemn, suspenseful mood.
Dining begins with a variety of appetizers and drinks ranging from sweet ginger biscuits served with cookie butter syrup and raspberry jam to veggie potstickers served with a spicy jalapeno sauce, appealing to an array of different tastes.
Next, guests can choose to simply order an entree, which is a popular option for lunch. However most dinner guests will opt for the more exciting option to build their own stir fry.
To create a stir fry, first visitors must decide if they would like a small ($8.75), regular ($9.75) or large bowl ($12.75). Then they pick a main dish starch of either udon noodles, steamed rice, fried rice, brown rice, cabbage, tortillas or spiral pasta.
I visited soon after a large afternoon snack and only opted for the small size udon noodles, but am looking forward to a large one the next time I visit.
Finally, diners move through a buffet counter to fill their bowls to the brim with a protein such as beef, chicken, shrimp or pork; vegetables such as mushrooms and potatoes; a mixture of sauces such as roasted tomato, thai peanut or honey soy; seasoning with Cajun dragon pepper, garlic or sweet ginger.
As a vegetarian, finding suitable dining options always proves to be challenging and grills especially are usually known for a rich selection of meat, but I found myself pleasantly surprised with the choices available at Genghis Grill.
Each meal is cooked on a separate section of the grill, with vegetarian meals partitioned from the non-vegetarian, giving me even a sense of comfort that I cannot find at most restaurants where food is prepared in a closed kitchen.  
A wide array of vegetables, vegetarian sauces and spices were included. I choose bean sprouts and baby corn for a good crunch, zucchini and squash slices to absorb flavor, and pinches of ginger to bring together my tomato sauce.
Each bowl of raw ingredients is then cooked on a large open grill similar to how Genghis Khan and his tribes would cook food over an open flame, creating an even more authentic vibe. The chosen starch and additional special requests, such as egg, are added at this time.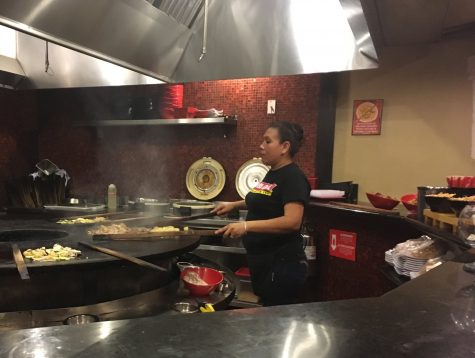 By the end of my meal, I was too full to order a dessert, but was enticed by options that blended modern popular desserts with traditional Indo-Chinese grilled wontons. Examples include the nutella and pretzel wontons or the crisp cookie butter wontons with ice cream and chocolate for $6.25 each.
If you are looking for a new restaurant, a well balanced meal and unique opportunity to create your own food from a set of diverse options, Genghis Grill is an optimal choice.
Follow Akila @akilam29
About the Contributor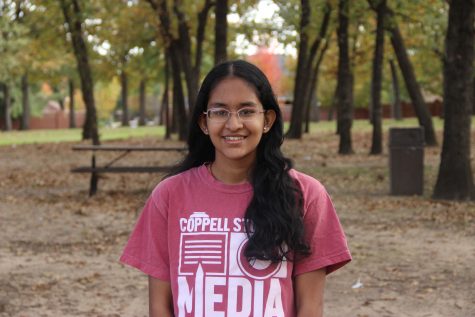 Akila Muthukumar, Staff Writer
Akila Muthukumar is a sophomore who loves writing, dancing and learning new things. You can contact her at [email protected]