One game at a time: Cowgirls continue winning streak by dominating Lady Longhorns
As the Coppell Cowgirls soccer team wins 10th straight match this season against the W.T. White Lady Longhorns, at Buddy Echols Field, 5-0, on Friday it is clear that they are onto something.
CHS sophomore forward Ryley Andrews set the tone for the entire match in the first five minutes, scoring a goal off a deflection with persistence and constant pressure in the attacking third.
"Tonight, we came out with the right mindset," Coppell coach Ryan Dunlevy said. "[Jan. 31 vs. Lake Highlands] we struggled to kind of get into a rhythm, we never really found our rhythm but tonight we came out from the first five minutes, got a goal in the first five, and that was one of our goals for tonight that came out with the right mindset and attacking mentality and it showed right away when we started dominating the match in the beginning."
Despite the team's undefeated streak and people turning heads, Dunlevy realizes the importance of not getting overconfident, especially this early in the season.
After securing a healthy three goal lead by the start of the second half against the Lady Longhorns (9-1-4, overall, 3-1 District 7-6A), players were not afraid to shoot with opportunities being created by combination play, through balls and dynamic runs.
"The next game. That's where we are at every single week is the next game," Dunlevy said. "The next game is the only one that matters. Now that this game is over, I'm going to look at the film and breakdown where we didn't do so well and fix it before the next game, see if we can win the next one."
Two more goals in the second half by sophomore forward Micayla Weathers and sophomore midfielder Rebecca Watley, both off assists, sealed the victory for the Cowgirls (10-0-1, overall, 3-0 District 7-6A).
"We haven't given up a goal yet, knock on wood." Dunlevy said. "We are playing incredibly well from the back, building into the midfield and into the forwards. It's an overall team effort, there's not one standout player that scores everything and does everything for us. There's 11 of us doing our job to make a good, complete unit."
A characteristic that separates a great team from a good one is the dynamic between players on and off the field.
"As a team we are starting to progress through our season working together and as we keep playing games, we start to pass the ball better and it's paying off as our results keep getting better," Andrews said.
CHS junior midfielder Tyler Runnels and Andrews look most forward to advancing further into playoffs this year.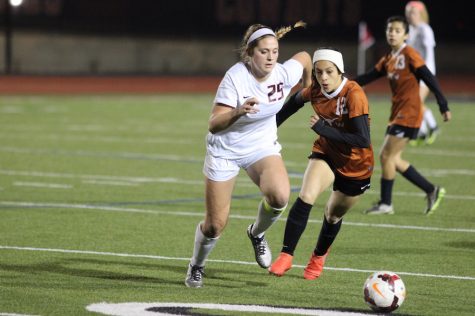 "We are all starting to bond more together as a team. We all rely on each other and trust each other so it's easier for us to score goals and just keep winning," Andrews said.