YouTuber Shastry inspires students to take learning initiatives
As students take harder level classes throughout their education, many find themselves struggling to understand certain topics, to the point where they may lose interest in them. But for Coppell High School senior Adithya Shastry, these advanced classes have only made him more interested in science.  
Through his YouTube Channel, ShastryNation, Shastry helps these students get interested in the field by providing them with a better explanation of the complex topics.
Since the summer after his freshman year, Shastry knew he wanted to do something to enhance the learning experience for himself and his peers, but was unsure about exactly what to do.
After taking Advanced Placement (AP) Biology his sophomore year in high school, Shastry developed a stronger passion for science, inspiring him to start and dedicate his YouTube channel to making informational science videos, ranging from topics such as biology and chemistry.
"When I would ask the freshmen on the swim team about biology and science, I would always get responses like 'biology sucks' or 'science is terrible' and that to me was just surprising because I always thought science was so cool," Shastry said. "My real goal is to get people to enjoy science and get interested in the topic."
His channel, ShastryNation, has more than 500 subscribers and is constantly growing, while his channel have been viewed more than a thousand times.
"He's one of those [students] that's really curious about everything. He wants to do well in the class but he's really more interested in the learning, so he would always ask really good questions. He'll thinks about it when he's gone and then he'll pop by my room and ask more questions," AP Biology teacher Jennifer Martin said.
To make his videos, Shastry starts by finding a science-related topic that he finds interesting and thoroughly researches it, using a wide variety of resources.
"The research I put into my videos is definitely the most fun part. I get a bunch of resources and read through everything to make sure I have a good understanding of the topic," Shastry said. "Then, I try to make it as basic as possible so people will get interested. I purposefully leave out a lot of the details to get people to go out and research more of it."
After planning out the layout of his video and the information he wants to include, Shastry begins filming his video and editing it.
While most of the effort put into ShastryNation is solely his own, his sister's work almost always makes an appearance in his videos. The visual elements, such as the diagrams and pictures, are usually drawn by his sister, CHS freshman Mahati Shastry.
"He wants [his videos] in a certain way, because it's his project and he wants it displayed to the world in a certain way,"  Mahati Shastry said. "So, it's a little bit hard but overall, it's really fun working with him."
Shastry hopes to continue his channel after he graduates CHS and further inspire the world to learn.
About the Contributor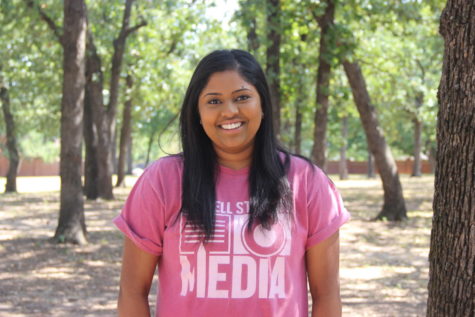 Sruthi Boppuri, Communications Manager
Sruthi Boppuri is a senior and the Communications Manager for The Sidekick. She is interested in art, movies & television, and visiting new places....