Second half efforts not enough in tough district loss
Joseph Krum, Executive Enterprise Editor
February 1, 2017
It was the comeback that just never quite was.
The Coppell basketball team, after trailing by 11 at the half to Richardson Berkner, showed its fight to open the second half with five threes and an and-one transition layup to tie the game up at 34.
Yet the barrage from downtown was not enough in the 52-47 loss as the Rams (17-10 overall, 6-4 District 9-6A) defeated Coppell (12-8, 6-4) and pushed the Cowboys right into a four team tie for second place in District 9-6A with Berkner, Richardson and Jesuit.
"We're trying to be aggressive with the ball even though we do shoot a lot of threes," Coppell coach Kit Pehl said. "They played a zone, so it was a little tougher to drive inside. But we had a lot of good looks in the first half that wouldn't go in, but in the second half, getting hot was nice."
One of those players that helped with the explosion coming out of the half was senior guard Caeden Horak, whose four of his five made shots were from beyond the arc.
"It was huge to get those three pointers to start the half," said Horak, who led all scorers with 15 points. "We wouldn't have been in the game without them, but we also played great defense for that stretch and held them to almost no points."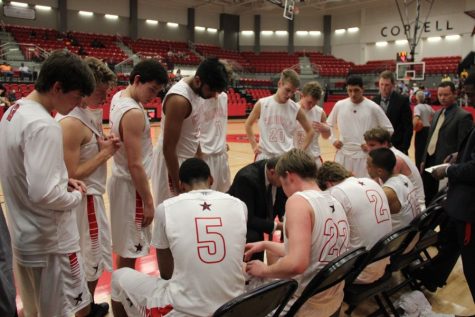 The biggest deficit for the Cowboys, who started off the game with a 8-2 hole to climb out of, was the 11 point halftime margin. Pehl, however, knew that this was nothing new for the team as they were in familiar territory.
"This game was eerily similar to the first half of the [Berkner] game at their place earlier in the season," Pehl said. "During the last game, we didn't play in the second half well. But tonight we were in attack mode, and even though we stumbled a couple of times, we had a lot of battle and guts within us, and it showed."
The Cowboys will need to keep in 'attack mode' heading into the last couple of game of the season, where they play Richardson (16-10, 6-4) and Lake Highlands (9-18, 4-6) next week, if they want to clinch a playoff spot.
"Even though it's cliche, we have to go a game at a time," Pehl said. "We have Skyline this Friday, which will be tough, but for the games after that we play teams that are all in this race. It's good to know, though, that if we take care of business we can make the playoffs, which has been a goal for us ever since district started."