Stellar first quarter gives life in blowout victory
Getting behind the Lake Highlands defense, Coppell High School senior guard Abby Johnson caught a pass under the basket and easily finishing with a layup. This shot capped a 14-0 run to start the game for Coppell, giving the Cowgirls a lead they would never look back from, as they would go on to defeat the Lady Wildcats, 60-30, at the Coppell arena.
After senior forward Chidera Nwaiwu opened up scoring with a layup on the Cowgirls' second possession, Coppell (17-9 overall, 5-3 District 9-6A) could not miss a shot, getting 3-pointers from Abby Johnson as well as senior guard Emma Johnson, along with points from junior forward Rachel Okereke.
The team got the home crowd involved early, pulling all momentum away from Lake Highlands (11-15, 2-6) from the start.
"The crowd is a huge factor," Coppell coach Kristen Davis said. "When you have that much excitement, that much noise, that many people here to support you, you have a tendency to want to perform.
"And finally, some of the things we work on every day, they started to show up tonight."
The turnovers that have plagued the Cowgirls' offense all year disappeared in that first quarter run, allowing them to get a good look at the basket almost every possession.
"It has really helped, because when we are focused, we don't turn the ball over as much," Abby Johnson said. "We are concentrated, so we're not rushed and we can play our game. We know if we play our game, we can win."
On the night, Coppell shot the ball well from the outside, particularly from beyond the arc. The team made seven 3-pointers, including three from Abby Johnson.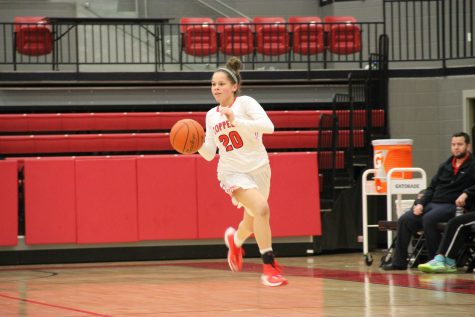 "We have to continue to shoot as well as we did tonight," Davis said. "We've been in little bit of a shooting lull, our percentages have been down. [Tonight] is what we're capable of, so we need to maintain."
In three of the final four games of the year, Coppell faces Richardson Berkner, Skyline and Richardson, the only three teams who sit ahead of the Cowgirls in the District 9-6A standings. To make a run into the top two spots in the district, the team will have to defend some of the top scoring offenses in the area.
"We kill ourselves with fouls," Davis said. "If [we] can continue to play better defense and keep everyone out of foul trouble and the other team off the free throw line, that puts us in a really good spot."
Yet, one of the bright spots of the season has been the way the Cowgirls have come together as a team. It was on full display in Friday night's victory, with crisp passing and a stellar press break.
"This year has really been an improvement," Abby Johnson said. "Just seeing that improvement and playing as one really has helped us."