State Champions begin title defense with consecutive wins, move to finals of tournament
Cowboys start off season with victory despite windy conditions
The last time the Coppell boys soccer team (1-0) took the field, it was in its pure domination of Lake Travis in the 6-1 victory in the Class 6A State Championship game, a match it played as clean as could be.
While the play from the Cowboys in their first match of the year against Lewisville was far from the near-perfect championship match, Coppell got the job done, opening the season and the North Texas Elite Showcase tournament with a 2-1 victory at Buddy Echols Field on Thursday afternoon.
For both sides, it was challenging to find any sort of rhythm offensively. Coppell did a solid job of not allowing the Farmers to complete passes downfield, but just simply could not retain possession long enough to put together a consistent attack.
"[We need] to control the ball," Coppell coach Chad Rakestraw said. "We've just got to be patient and work off of each other. Today, it was a little rushed, a little direct, and it was overall just pretty sloppy."
Senior forward Nick Taylor and junior forward Wyatt Priest, the lighting rods of the electric Coppell attack a year ago, were unable to get their aggressive style of offense going due to poor passing and ball control. However, Priest scored the Cowboys' first goal of the year on a nice curled effort to the back post in the 25th minute. Yet, other than that goal and senior midfielder Alex Haas's score off a deflection in the 30th minute, Coppell truly did not generate many other chances.
Lewisville's lone goal came 18 minutes into the first half, when a free kick from around 30 yards out glanced off the hands of a diving junior goalkeeper Carlos Haro and into the back of the net. Haro, who is replacing graduated senior Jerod Longoria in net, had little varsity experience from last year.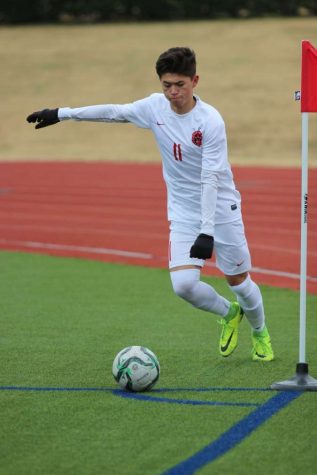 "Haro struggled today," Rakestraw said. "He's a kid that has the ability to be a very good keeper, he just has to maintain confidence, maintain his head. We'll see what happens the rest of this weekend, but he's going to grow into it and be a very good keeper for us."
Aside from the first half goal, Haro had little trouble with the Lewisville attack. The Farmers only put three other shots on goal, all of which were directly to the junior keeper. Early on in this season, Rakestraw get him as much experience as possible so he can continue to progress and develop his skills as a goalkeeper and his chemistry with the defenders before district play.
"[I just need to] keep an open mind, and we need to play as a unit," Haro said. "We should have that mindset of being able to play as a unit, not just about winning."
In their next matchup, the Cowboys will go up against Arlington Sam Houston on Friday at 5 p.m. The game was moved to the Coppell indoor facility due to inclement weather conditions.
Despite snow outdoors, attack heats up in rout
In only the second match of the young season, the Coppell soccer team (2-0) is already showing one thing that bodes well for success this season: growth.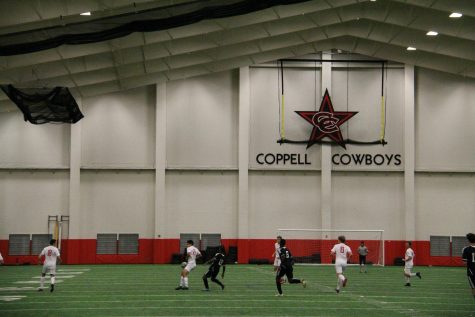 After struggling to maintain possession and create flow within their passes in their 2-1 victory over Lewisville on Thursday, the Cowboys displayed improvement in that area against Arlington Sam Houston (1-1), piling on first half goals to win 5-0, moving to the North Texas Elite Showcase final.
Snow throughout the day and freezing temperatures moved the match from Buddy Echols Field to the indoor facility. Instead of the regulation 40 minutes halves, the teams only played 30. Yet even in these different conditions, it was business as usual for Coppell, who had been practicing in the indoor all year.
Returning the centerpiece of last year's high-powered attack in senior forward Nick Taylor, junior forward Wyatt Priest and senior midfielder Alex Haas, Coppell was looking to get its attack going early and often against Sam Houston. With quick passes on first touches and nice spacing, Taylor found an opening in the fifth minute and put a cross right on the foot of Haas, who finished for the goal.
"Last [match], we were complacent," Taylor said. "We thought we were going to roll in there and win. Today, we turned things around. We were more focused. We were a lot more connected in the attack today, and that helped."
Without trying to force passes into tight openings, the Cowboys remained, for the most part, patient. When a passing lane was not there, they looked for a new one. They attack was smooth and fluid, allowing for Coppell to dominate in time of possession.
"You can't rush too many things, or else the game gets kind of chaotic," Taylor said. "At some point you have to control it and be patient. That's when your opportunities come. That was [what we did] today. A lot of our chances came from just being patient and playing."
In the 14th minute, Haas put a great free kick in the box for Priest to head home for a goal, and only four minutes later, Priest headed in a corner kick, quickly extending Coppell's lead. After Haas sent a rocket into the upper corner of the goal on another free kick, the Cowboys coasted, taking a 4-0 lead into the half.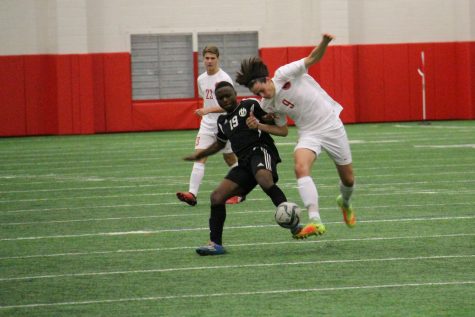 After almost half of the starters sat on the bench for the second half, Sam Houston was able to limit the chances created from the Coppell attack. The Cowboys struggled a bit to get passes into the box, but Taylor broke through for his first goal of the season to give them a five goal lead.
After the one-goal second half and three first half goals coming on set pieces, Coppell coach Chad Rakestraw saw room for improvement in the chemistry of the attack.
"It's not where it needs to be yet," Rakestraw said. "We're trying to get a flow of guys and feel out who needs to be where and who needs to play together. Our guys are still adjusting to how to play with one another.
"It just takes time. The second game of the season, we've had three scrimmages and two games. It's early, it just takes time over the season to build that."
The Cowboys have a great opportunity to continue to build on Saturday at 1 p.m. in a rematch against El Paso Socorro, a team they defeated 3-0 in the regional semifinal a season ago.