Hullababoo brings community together for early Halloween (with video)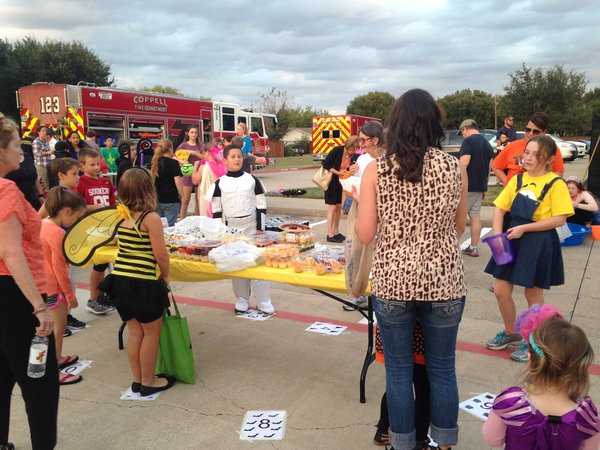 At the First United Methodist Church (FUMC), little kids could be spotted in costumes, ranging from Ghostbusters to firefighters, getting into the spirit of Halloween a little early.
FUMC of Coppell hosted its annual Halloween Hullababoo on Oct, 26, which consisted of a bounce house, trick-or-treating and fun games and activities for kids to enjoy.
Preparations for the event have gone on since last May to make this event enjoyable for the entire community.
There are usually around 700 people that float through the festival resulting in a good turnout every year, but this year especially had hoards of people.
"I did not expect this many people. I expected a decent amount but not like crowds of small children," Coppell High School junior volunteer Meghan Bauer said. "I've gone to this every year since I was a little kid. It's changed a lot but they've had it every year."
Small children dressed up in cute costumes, as if it were Halloween, roamed the parking lot. Cars lined up in the parking lot with their trunks facing toward the trick-or-treaters like a tailgate.
"It's a way for us to open our doors and encourage people to come and see what we're like and be a community," coordinator Martha Hagan said.
Volunteers dressed up for Halloween and parked their cars with their decorated themed trunks. Kids got to trick-or-treat by going up to each decorated back of car and were given candy as if the cars were like houses.
"I came out because it's fun to scare kids and to see all the cool costumes," Bauer said.
Inside the church, illusionist Mike Squires wowed the crowds of kids with card games and knot rope tricks.
During his set, Squires asked for volunteers for various demonstrations. His balloon animal impressions trick was one of the more fascinating tricks by the kids.
During the trick, he blew up a balloon and made impressions of various animals such as a mosquito, an elephant and a porcupines while he was slowly inflating the balloon.
Outside, various games were set up for all of the kids to enjoy. Activities included a boardwalk, sky darts, ring toss, duck race, crafts and face paint.
"We've come every year for about the first four years," Coppell parent Leslie Heatherington said. "We're members of the church here and it's just a great, fun, kid-friendly, family-friendly event to see neighbors and friends from the community."
There was also a pumpkin silent auction where people could bet on various prizes. All of the proceeds from the auction go to Coppell Cares.
In addition to satisfying the stomachs of hungry families, all of the proceeds from the chili cook-off go back to Coppell Cares as well.
Coppell Cares is an outreach ministry from FUMC that helps people when they find themselves in a situation where they cannot pay their rent and need help with electric bills. They also help in schools with needs, such as the lack of school supplies.
"It's important for people to come because it's about building communities, getting to know your neighbors, encouraging people in the church to go and invite others to come and see and so that's why we do events like this," Hagan said.