Big-play defense comes through with fourth quarter turnovers in win
With Skyline (4-5 overall, 4-2 District 9-6A) knocking on the door with first and goal at the one yard line,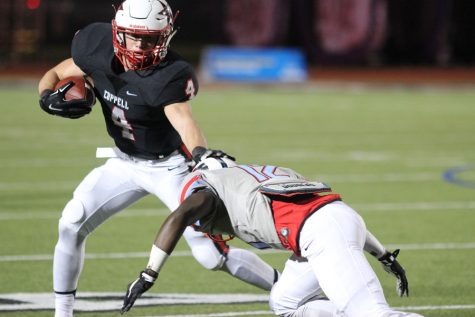 the Raiders were threatening to make it a three point game with under five minutes to go.
The Coppell defense was having none of that.
The Cowboys (7-2, 5-1) stuffed four straight run plays from the one yard line, holding on to defeat the Raiders 24-14 at Buddy Echols Field in the final home game of the year.
For a Coppell defense that has come up with big plays all year, this was the second of two they made in the fourth quarter. Five minutes earlier, sophomore defensive back Jonathan McGill took an interception 45 yards for a touchdown to give Coppell a 10 point lead. After Skyline put together a nice drive that brought them down to the Coppell one, the defense was able to get a huge goal line stand.
"It's huge," Coppell coach Mike DeWitt said. "It swung the game right at the end there. Obviously the goal line stand was huge, because if they score there they make it a one possession game. It was big."
It was a statement win for this defense going up against a Skyline offense that had put up at least 28 points in four of its previous five District 9-6A games.
"Our mindset this whole year has just been 'finish'," McGill said. "That was our motto in the spring, that has been our motto in everything we do. We knew we could bend, but our defense wasn't going to break. We do a great job of that every week."
While the defense came up with a big game, the offense struggled to put points on the board. After senior punter Bernardo Rodriguez-Palacios returned the opening kickoff for a touchdown, the Cowboys only put 10 offensive points on the board, seven of them coming on a 36-yard touchdown pass from junior quarterback Brady McBride to senior wide receiver Matt Dorrity less than five minutes into the game.
"It was a hornet's nest," DeWitt said of the Skyline defense. "They were bringing in the house and playing cover zero, we couldn't get the ball off. We just had to pound it and get three yards. You can't get behind the chains when you do that."
Negative plays on first or second down stalled the Coppell offense in all four drives in the first half following the touchdown pass. Yet, the defense, which finished with three turnovers, kept Skyline's offense in check.
With the win, Coppell secured home field advantage in the bi-district round of playoffs in two weeks.
"We're just looking to finish strong, finish the district strong," McGill said. "We're on a win streak right now, we just need to keep pushing forward, and I can't wait to host a playoff game."