Red ribbons and red tape: Tuesday's City Council Meeting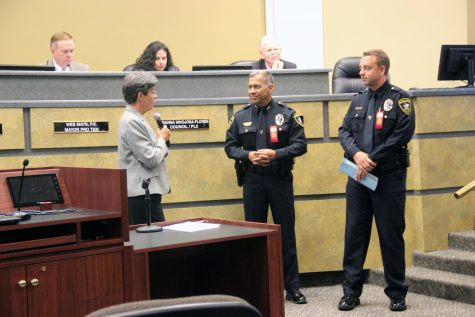 Tuesday's City Council meeting was held a day later than usual due to the celebration of Columbus day.
This week's council meeting opened the annual Breast Cancer Awareness month of October, and proclaimed the week of Oct. 23-31 as Red Ribbon Week.
Pink Souls in Motion is a nonprofit group which participates in the three day 60 mile walk to raise awareness for breast cancer. The group raises research funds for breast and other cancers.
Accompanying the Pink Souls in Motion was its Youth Corps.
Coppell High School senior Jessica Hernandez is the youngest member of the Pink Souls in Motion and got involved through the three day event's Youth Core, which she was in for two years.
"I've made such great friends through the three day and I know such great people because of the Youth Core that, at this point, I consider them really good friends, so not being part of the three day would be super weird," Hernandez said.
To join the Youth Core individuals between 10 and 16 years old must be selected after a series of interviews and essays, as well as raising a total of $500 for breast cancer research.
"It's made me appreciate the people around me more, because I have really started to realize that there is a lot more to each person than you think," Hernandez said.
Red Ribbon Week will kick off with a symposium about drug awareness being held at Coppell Middle School North on October 20 at 6:30 p.m. It will be hosted by the Coppell Police Department.
The planning of a new 9.4 acre building complex is being planned in the lot adjacent to Sprouts on Sandy Lake Road. The planned area will include several shops and two restaurants with an abundance of patio space. There are also new parking areas being constructed behind the lots.
Disagreements arose on whether an extra 30 parking spaces should be included with the project from the start, or if a survey should take place after the project's completion to see if they were necessary after the fact. These differences in the plan resulted in the issue being shelved for two weeks.
Oak Fest is scheduled for Saturday from 5 to 9 p.m. at Wagon Wheel Park. All types of activities including music, bounce houses and food stands will be available.