McGill, timely defense saves narrow OT victory in season opener
No matter which way you look at it, it was not pretty.
For some, the first game jitters appeared to be in full effect on Friday night. However, Jonathan McGill was seemed to be immune. The sophomore finished with two interceptions (one in overtime) and the game-winning touchdown catch, as somehow, some way, the Cowboys (1-0) pulled out a 28-21 double overtime victory against L.D. Bell (0-1).
McGill, who finished with 19 receiving yards on three catches, made two timely plays in overtime. The first came in the form of an interception on the first pass of overtime. The Bell quarterback was hit as he threw, and he lobbed it up right to McGill, who was able to catch it almost like a punt, giving Coppell the ball. In the second overtime, McGill made a great diving catch in the back of the end zone on a bullet pass from junior quarterback Brady McBride, giving the Cowboys the 28-21 win.
"
I'm just thankful. I'm thankful for Brady throwing the ball to me, and I'm thankful I was able to make the play.""
— Sophomore defensive back Jonathan McGill
For much of the game, McGill and the rest of the defense played lights out, forcing five turnovers and getting stops when it truly needed them. Senior defensive lineman Holden Rupely and several others found gaps and made plays in the backfield throughout the game.
"These guys play extremely hard," Coppell coach Mike DeWitt said. "They just battled, and I'm proud of their effort."
With three new starters, the defensive backfield began the season playing outstanding, picking off four passes and swatting away several others.
"Our defense this year has become kind of a family," McGill said. "We have more unity this year than we did last year. Since our [defensive backs] are all friends, the corners and safeties have good communication between each other."
Despite the successes on defense, the offense struggled to keep drives alive for much of the game with Bell's aggressive pass rush and solid defensive front.
"Some of that was they were bringing more than we can block," DeWitt said. "We tried to max protect some. We just have to keep getting better at pass [protection]."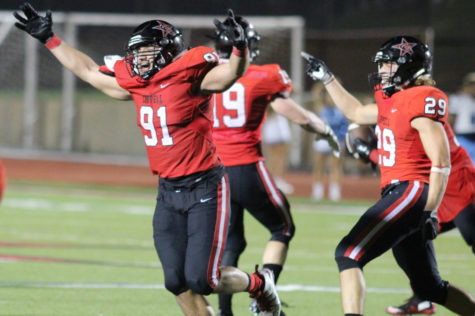 Next week, the Cowboys will play the 0-1 McKinney Boyd Broncos at McKinney's Ron Poe Stadium. This Boyd team is one that Coppell defeated handily at home last year, taking a 34-14 victory.
Close losses have haunted this Coppell team for the last several years. But while they did not earn any style points for this one, an overtime win like this could be the start of flipping the script.