Six soccer signees headline Spring Signing Celebration
As 14 Coppell High School seniors signed their name on Wednesday, it was not just like any other signature that these athletes had done.
This signature meant more. This signature committed them to play their respective sport for a college for the next four years.
"It's really exciting," Coppell girls basketball player and Hamline University signee Kaeli Stayer said. "Just knowing I worked really hard, it's awesome to know that I have the opportunity to play at the next level."
Stayer, who was the Cowgirls' Offensive Player of the Year, averaged nine points per game in her last year at Coppell.
"Through my high school years, I mainly learned how to work hard," Stayer said. "So now I can take the work ethic I gained and use it to get better at the next level."
Along with Stayer, six Coppell soccer players signed their letters of intent to play at the collegiate level, which boys soccer coach Chad Rakestraw deemed as the most that there has even been in his years at CHS.
"It means a lot [to have six guys signing]," Rakestraw said. "It makes it seem like you are doing something right as a program. These kids really bought into what we were trying to do and so it's a great day to celebrate that and all the hard work these guys have put in throughout the years."
Rakestraw, who coached the team to theClass  6A state championship, has lots of good memories of the signees and the seniors as a whole.
"I'll remember just the change that they were able to make in a year," Rakestraw said. "They completely changed the attitude and the culture of the group. For the level of commitment to that and not allowing anyone to ruin that culture is all due to the seniors."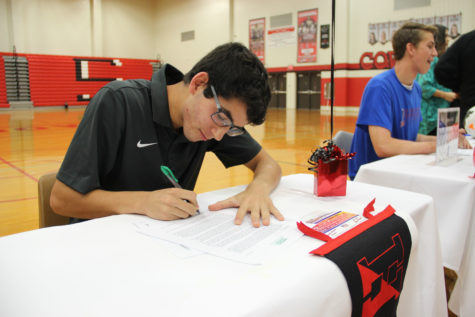 Below is a list of the 2016 Coppell Spring Signing Celebration signees.
Brandon Bohn, soccer- Trinity University
Marcelo Gaitan, soccer- University of Mary Hardin-Baylor
Andrew Grimmer, soccer- Florida Southern College
Stjepan Kilic, soccer- Fairleigh Dickinson University
Manuel Martinez, soccer- Richland College
Rodrigo Zuniga, soccer- Haverford College
Emma Jett, soccer- University of Texas
Kaeli Stayer, basketball- Hamline University
Laura Taylor, cross country- Trinity University
Ko'a Moe, wrestling- Missouri Baptist University
Melissa Coburn, tennis- Idaho State University
Myles Paschall, baseball- Abilene Christian University
Ty Manning, baseball- Abilene Christian University
Marco Navarro, baseball- Hill College
Leave a Comment
About the Contributor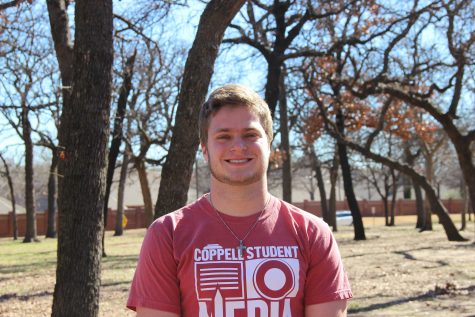 Joseph Krum, Executive Enterprise Editor
Joseph is the Executive Enterprise Editor on the Sidekick Newspaper and he also plays football for the high school. Joseph is a senior in high school...