Food Truck Frenzy to bring family fun to Coppell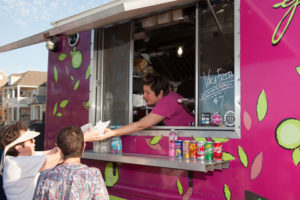 Tomorrow, several of the most popular food trucks in the Dallas area will be in the square at Old Town Coppell for Coppell's second annual Food Truck Frenzy.
For one night only, citizens will be able enjoy tasty food ranging from New York style sandwiches to Indian food, all within Coppell's family friendly environment. They are invited to bring picnic blankets and lawn chairs for an evening of new food and fun.
Because of the recent interest in food trucks, the city hosted its first Food Truck Frenzy last year and had approximately 3,000 people in attendance. This year, because of its past success, the event has been extended for one hour and added four food trucks, totaling 10 trucks in attendance.
Complete with balloon artists, face painting and a live DJ, the event will also be a time for socializing entertainment for the whole family.
The Food Truck Frenzy is located at 768 W. Main Street and admission is free.