Bittersweet moment for recognized senior scholars, athletes at board meeting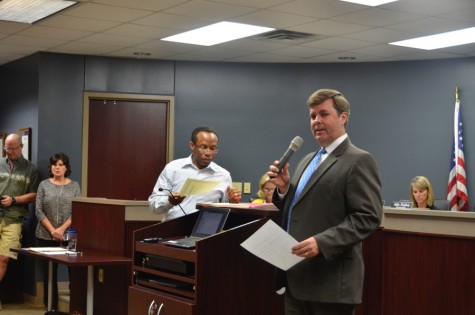 Pride and honor ran high on March 28 as the Coppell Independent School District (CISD) board meeting opened by recognizing the national merit finalists and senior athletes.

"These girls have played a really big role this year. I'm new to the Coppell family and this group of seniors have helped make that transition a lot easier," girls soccer coach Ryan Dunlevy said.


Each student athlete introduced themselves and their intended major and university for next fall.


The meeting room was filled with friends and family, setting a supportive and encouraging tone for the recognized students.


After the recognitions, the meeting was officially started, beginning with the summary of the spring demographic report by Sid Grant, the assistant superintendent for business and support services.
"Part of our meeting is also about transformation. Within the district we set up real time learning," Dr. Marilyn Denison, assistant superintendent for curriculum and instruction said.
Denison discussed a strategic plan to improve all schools regarding transformational leadership.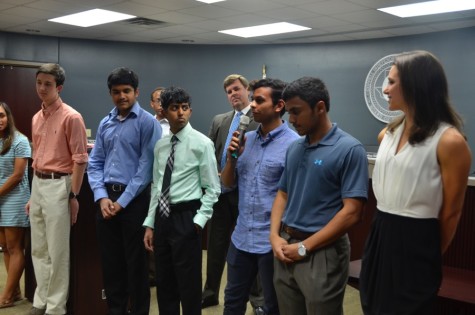 Director of Assessment Debbie Youngs discussed statistics and passing rates regarding the End of Course exams (EOC) and STAAR exams, starting on the March 29. It was noted that Algebra I students in CISD middle schools had a 100 percent satisfactory passing rate.
Youngs explained the the Executive Director of Curriculum's solutions such as individual portfolios and accelerated instruction to successfully increase the percentage of retesters
Deana Harrell, director of advanced academics, explained the House Bill 5 and the foundation and endorsement plans offered to current sophomores and below.
Harrell introduced the Social Media and Marketing course that could potentially be introduced into the Coppell High course registration guide and offered to learners between the 2016 to 2017, instructed by Richard Chamberlain.
"Partnership with business and industries could come into play to meet those requirements," board member Anthony Hill said.
Plans to potentially allow students to become CPR certified were discussed and efforts by the Red Cross Club at Coppell High School was mentioned.
Grant and the construction committee reviewed current construction projects to complete renovations in the high schools and middle schools and settled on Balfour Beatty, a contractor the district has previously worked closely with.
Balfour Beatty was also chosen to overlook renovation regarding the opening of the new ninth grade center in fall of 2018.