Students awarded for performance in UIL One-Act play
On and off the stage, a lot of hard work goes into making the UIL One Act play a success. This year, Coppell High School's UIL team performed Big Love, a play about a group of sisters running away from marriage contracts with their cousins from Greece. They take refuge in a large family in Italy until their cousins find them again.
"The play revolves around the different perceptions of what society thinks love really is," junior cast member Ty Dalrymple said. "You hear these perceptions from three soon-to-be-married brides that are fleeing from their husbands (and cousins) because their marriage is forced."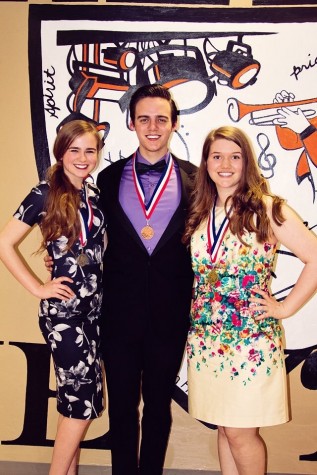 While watching the performance, the judges took notice of three cast members in particular. Sophomores Maddie Purser and Macy Johnson, as well as Dalrymple were recognized for their talent on and off the stage. After the show, the three actors received awards.
Purser was awarded the Outstanding Technician Award, which recognizes the effort and dedication of one technician from each of the seven participating high schools.
"The judges were looking for people who kept a level head, were respectful of their own cast as well as the crew at Haltom [the location of the 2016 UIL competition] and who were generally helpful," Purser said.
As the Stage Manager of the One-Act, Purser oversaw the technical aspects of the show and helped the director, CHS theater teacher Kelsie Morris. Purser had people counting on her for everything, from writing notes at rehearsals to calling cues during the performance.
"It can be hectic at times, but I am so grateful for the opportunity that this show and the theater department has provided," Purser said. "I think I made a lot of great friends and became closer with the people I already knew because of this show, and my favorite thing was how tightly knit the cast, crew and director became."
The All Star Cast award, received by Johnson, goes to the judges' favorite actor or actress. According to the judges, they were looking for very natural acting, relatable characters and character development as the show progressed.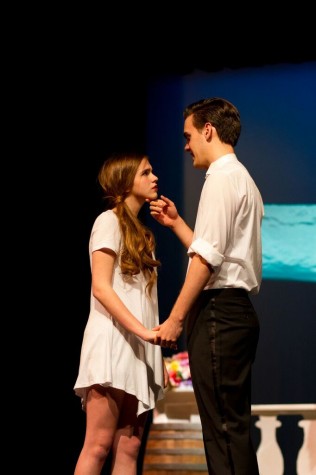 "I was so excited to win this award," Johnson said. "Everyone in the cast was so amazing – I felt so honored to have been chosen. It was amazing to have the opportunity to work with such a fantastic director and actors, and they really helped me learn a lot from this production."
Johnson played Lydia, a character that she was easily able to relate to.

"My favorite part of performing in the One Act was creating a character that I loved. Lydia was an amazing character to portray," Johnson said. "Even though her circumstances are outlandish, she is a very real character and I connect with her. Like me, she tends to overthink things and isn't always the first to speak her mind."
Dalrymple won the Honorable Mention award, an honor awarded to only seven to eight members of the competition for outstanding performance and real moments on stage.
"That's why I'm in theater, to learn how to perfect those moments that come across as real to the audience," Dalrymple said. "For now, it all comes from my directors and trying to figure out how I can play this certain type of character to the best of my ability."
Although the team as a whole did not advance to the next round of competition, it was not for nothing.
"We work very diligently and dedicate many hours to putting this show together," Dalrymple said. "It's not always about advancing because the memories we make putting this show together are what we all remember."
About the Writer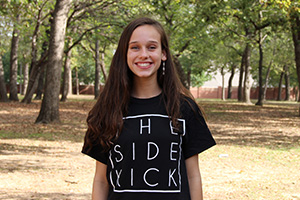 Avery Davis, Staff Writer
Avery Davis is a sophomore and first year staff member on The Sidekick newspaper. In addition to journalism, she a participant of the Lariette Drill Team...