Beauty in pageant world: not just skin-deep
Pageant girls defy stereotypes through service and kindness
Style, service, scholarship and success represent the four points of the Miss America crown. As Miss Plano's Outstanding Teen, Coppell High School sophomore Stephanie Wendt strives to embody these points in both the pageants she competes in as well as in her everyday life.
Wendt has only been competing in pageants for nearly two years (since she was 14), but has already had great success. In the Miss Texas' Outstanding Teen 2015 pageant, Wendt was third runner up.
Wendt hopes to continue her success on July 2 at the Renaissance Dallas Richardson Hotel, where she will compete again for the title of Miss Texas' Outstanding Teen, and go on to compete at a national level.
Wendt, and other pageant girls, face many unfair stereotypes. Television shows such as "Toddlers and Tiaras" and "Here Comes Honey Boo-Boo," are far from accurate when it comes to portraying the pageant world.
"Every single one of the girls [competing in Miss Texas' Outstanding Teen 2015] had a genuine heart," Wendt said. "You could go up to them and just have a heartwarming conversation about their platform or an organization that they're passionate about. Sadly, TV doesn't always show that."
A common stereotype these girls face is that they are too focused on looks instead of more important things. However, the Miss America Organization primarily focuses on leadership, scholarship and community service.
"
[Pageants] aren't just a group of bratty girls rhinestoning every single piece of clothing that they own."
— Stephanie Wendt
"[Pageants] aren't just a group of bratty girls rhinestoning every single piece of clothing that they own," Wendt said.
A large part of the Miss America Organization competitions is talent and a private interview with the judges, both of which Wendt focuses on as a member of the Lariettes drill team at CHS.
"Expectations are high in the pageant world when it comes to behavior and perception, and that is something we try to convey in drill team as well," Coppell Lariettes director Julie Stralow said via email. "If you put yourself in front of an audience, the spotlight doesn't necessarily turn off when you leave the stage."
From when Wendt was 9 to until she was 11 years old, she participated in the Lone Star Princess Program, a part of the Miss Texas Organization that allows girls from the ages of 5 to 12 to shadow older girls who are competing in pageants and learn about the organization.
This program teaches young girls valuable life skills while also giving older girls the opportunity to be mentors and leaders. Now that Wendt is 15, she acts as a mentor to four Lone Star princesses.
In addition to encouraging young girls to be confident and well-spoken, the Miss America Organization also encourages academic success. The Miss Texas Organization is the nation's leading scholarship provider for young women. It awards more than one million dollars in scholarships every year. Every girl that competes at Miss Texas or Miss Texas' Outstanding Teen wins a scholarship.
The Miss America Organization gives young girls many opportunities for personal growth, academic success, and perhaps the most significant, opportunities of service.
As a local, state or national titleholder, these girls have responsibilities to their communities. Each title holder submits a personal platform statement that outlines their community service work of choice.
One of many examples of how Wendt gives back to her community is through her involvement with the Lone Star Angel program, a program affiliated with the Miss Texas Organization that helps girls with disabilities realize and pursue their dreams.
The program was created by Miss Texas' Outstanding Teen executive director and Miss Texas Lone Star Angel chair Darla Bergeron two years ago.
"My inspiration was my own daughter Brooklyn who was born with cerebral palsy," Bergeron said. "[She] will not have the same opportunity as other young girls to ever participate as a Miss Texas contestant. My goal is to give disabled or terminally ill young girls the opportunity to be on stage just like every other girl."
On March 19, Wendt and eight other titleholders volunteered at a North Texas Angels pageant in Dallas. She helped crown and sash 97 special needs children at the pageant.
"It was really cool to see all these special needs kids overcome these obstacles," Wendt said. "Like maybe a doctor told them that they could never talk, but here they are singing on stage."
Wendt and the many young women involved in the Miss America Organization are far more intelligent, kind and service oriented than pageant girl stereotypes give them credit for.
"To me, the Miss America Organization is a platform for girls to become successful through earning scholarship money, developing who they truly are and using the skills that they learn in the community to gain experiences that they will take with them for the rest of their life," Wendt said.
View Comments (1)
About the Contributors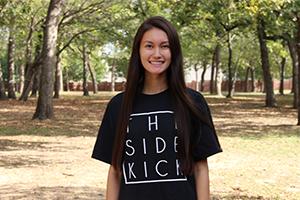 Maggie Theel, Staff Writer
Maggie Theel is 16 years old and she is a junior at Coppell High School. In addition to being a staff writer for The Sidekick, she is a diploma candidate...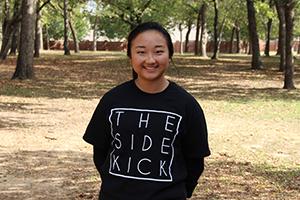 Jennifer Su, Photographer
Jennifer is a senior at CHS and a photographer for The Sidekick. In her free time, she likes to watch TV shows. Her favorites include Teen Wolf, Vampire...