Pitching staff throws one hit shutout in victory over Carroll
It was John Kodros' game.
With the wind swirling at the CISD Baseball/Softball complex, the junior starting pitcher threw a gem for the Cowboys, throwing six innings and allowing only a single hit as Coppell (17-0, 3-0 District 7-6A) squeaked out a 1-0 win over rival Southlake Carroll (9-5, 0-1).
Through five innings, Kodros only allowed two Dragon hitters to reach base, one on an error in the second and on a walk in the third. He struck out six through the first five frames.  
"John had command of all three pitches," Coppell coach Kendall Clark. "When he missed, we were calling for it to be a miss. He hit his spots. When you have command of two or three pitches, you're going to really have a good night, and the hitters are going to have a bad night. When you don't have command, and you just have to go to your fastball and they'll hit you. Tonight, he had all three pitches working."
The Carroll pitching staff was on fire as well. After getting out of a bases loaded jam in the first inning, the Dragon starter Matthew Canterino struck out 10 through five innings. Coppell's only run came in the fourth inning, when senior second baseman Austin Gross crushed a one out triple off the wall, scoring senior third baseman Ray Gaither from first.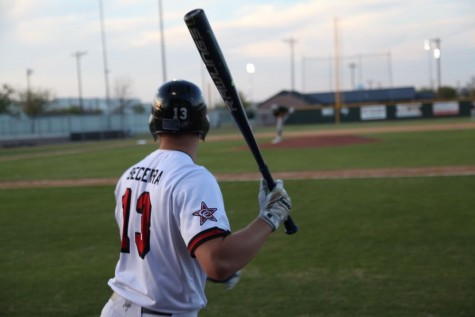 "It's always good to beat Southlake (Carroll)," Gross said. "Our pitchers pitched pretty well, and kept us in the game. It feels good to get the win."
In the final inning of the game, with Coppell clinging to the 1-0 lead, Gaither took the mound to close for the Cowboys. After giving up a four-pitch one-out walk, the runner advanced to third on two passed balls. However, he finished it off, catching two Carroll hitters looking to end the game.
"You see tonight what really good pitching will do to you," Clark said. "It allows you to get just two or three hits and stay in the game. We got the big triple to score one. If you don't have great pitching, you look up and you lose 3-1 or 4-1 and think 'we didn't play well'. But tonight, we made all the plays in the field, we got a couple big hits when we had to have them, so you just feel better about the night."
On Friday, the team heads to Southlake to play the Dragons at their home field. With the win on Tuesday, the Cowboys extend their win streak to 17 games to start the season going into Friday's matchup.
"It's awesome," Gross said. "We're just trying to win every game, keep [the win streak] going throughout the season and see where it takes us."