Coppell Academic Decathlon successful state run ends on high note
Short of only 10 questions out of the 3,000 the Coppell Academic Decathlon team answered at the competition, the team had a devastating blow when the members realized the scale of the loss. The competition resulted in the closest score between the three teams, Highland Park, Coppell and Rockwall and highest scoring competition in the history of the competition.
Despite the loss, through their journey, they formed strong team chemistry, the single most important trait that separates good teams from great ones.  Tears, happiness, laughter and disappointment encompassed the journey of nine Coppell Academic Decathlon members.
Together, they forged an irreversible bond built on trust, respect and competition that made history for Coppell High School.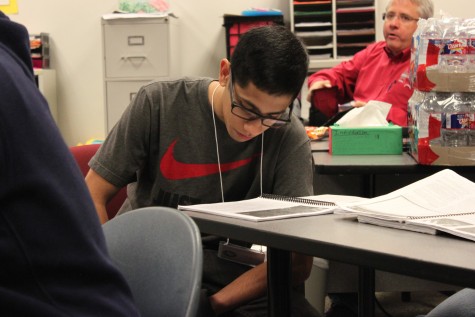 On Feb. 27, the assured but nervous Academic Decathlon team travelled to the Texas state competition in Denton, naive of the heart breaking yet worthwhile outcome of the competition.
Though the resulting silver medal did not seem rewarding enough in the eyes of the team, their journey produced intangible everlasting memories, relationships and exchanges that will be permanently cherished. Coppell High School had never placed as high as second in the state competition, setting the bar for future of the program.
The Academic Decathlon team will not advance to Nationals, but will instead participate in the online E-Nationals decathlon later this year comprised of the second place state finishers.  
Senior Daniel Koh's World History teacher and Academic Decathlon coach, Tim Dixon, saw Koh as a student who needed to challenged and offered him some Academic Decathlon material in class, ever since that moment, Koh has been hooked.  Koh, a two-year contributing member of the team, is convinced that the strong team dynamics between the members was the key ingredient in their success.
"By now we have known each other for so long and we spend so much time together that we have all these inside jokes and we act almost like a family," Koh said. "It's going to be hard to build that kind of relationship for where I go in the future."
Notable members senior Ashray Gautam placed second, senior Matthew Smith placed fifth, senior Taddie Cook made a perfect speech score of 1000, senior Jessica Melville placed third for Literature and junior Federica Ferrari placed second for Art. Together they amassed a grand total of 52,179 points, only about 200 points away from winning the champion title, but still received $1,500 of scholarship money for their effort.
"This team has bonded like no other team I have ever had, they are such deep friends," Dixon said. "We were devastated by the second place finish; it was very emotional and traumatic,"
The true essence of the team and mission of Academic Decathlon is to cultivate life long skills and a wide range of knowledge that supersedes material rewards, creating more contributing and knowledgeable members of society.
"There's no anxiety, there's not fear in talking to other people about any anything because of Ac Dec.," Koh said. "I have met so many different kinds of people, it's that much easier to build rapport and relationships,"
The team ranges from students with perfect As to students failing their classes but through their differences, they come together with an unified spirit of competition. The grind leading up to the competition lasted for two months, they would practice six days a week for three hours after school.
"It was kind of like a slap in the face, a lot of people see that we got second place and they are like 'congratulations' and 'good job' but it was really tough on us," junior Ferrari said.
Mrs. Short, Mrs. Shepard and Mrs. Kunkle are the supporting coaches who went on this meaningful emotional and physical journey with the team.
"What helped them handle the loss was that they were such good friends," Dixon said. "I am proud that I have not once have I heard anyone blame someone else because you could come up with a hundred reasons why we lost and yet they don't get into that. Its beautiful about them that they are so strongly bonded that they have never blamed each other."