Sia reclaims the stage with "This Is Acting"
From the first glance, Australian born artist Sia Furler (mononymously known as "Sia") is different. In every instance, she appears with creative ways to cover her face. She is known for penning the works of many artists such as Rihanna's "Diamonds," Beyoncé's "Pretty Hurts" and Kelly Clarkson's "Invincible."
The idea behind This Is Acting is that almost every song on the album was originally meant for another artist, who passed on the opportunity. The ever changing sound makes the listener aware of just how much of a chameleon that Sia is.
"Alive," a powerful track about overcoming the odds was co-written and originally meant for Adele to put on her recent release 25. "Footprints" was written for Beyoncé and "Cheap Thrills" was meant to be performed by Swedish electropop duo Icona Pop. "Bird Set Free" was meant to be featured for Hailee Steinfeld's character in Pitch Perfect 2.
This Is Acting has proven to be a hit across the world, reaching No. 1 on Australia's ARIA chart, No. 4 on the U.S. Billboard Top 200 and No. 3 on Billboard's list of top U.S. digital albums. Though many songs caught my attention, the five reviewed below particularly interested me.
"Bird Set Free"
"Bird Set Free" carries more of a classical sound at first, but it quickly dissipates into Sia's signature sound, highlighting her intense range. The lyrics are often garbled, but there is no need for them to be articulated. The song sings of broken dreams and clipped wings, and how the artist will fly on her own mark, not anyone else's.
"Alive"
Though lyrically "Alive" gives off a sort of Adele vibe, Sia's work ends up being so definitely Sia that the mental comparison of her to Adele just disappears. Sia's voice is once again the highlight of her work, even going as far as to showcasing a section of the song devoid of all other instruments. Adding this into the song reminds the listener that Sia is not the weird celebrity who hides her face or only writes songs for other people. Sia is just Sia, and it becomes unfair to push her music into the mold that so many think she belongs in.
"Reaper"
"Reaper" features less of Sia's strong vocals, her voice blending more with the music. Co-written by Kanye West, the song is filled with empowering lyrics that sing of focussing on the good things in life.
"House On Fire"
Starting off soft and gradually building, Sia's "House On Fire" is a perfect melody that combines her powerful voice with a beat that never ceases. The lyrics are more simple than that of Sia's other songs, but a complex message does not seem necessary. The song discusses a haunting message of being in a hurtful relationship ("Baby I'm a house on fire") but also being too attached to leave ("I want to keep burning").
"Footprints"
"Footprints" no doubt leaves a lasting impact on its listener by singing of Sia's personal struggles and what it had to take to overcome. Despite the majority of the song's underlying message of difficulties, Sia's work slowly builds up to the chorus, which carries a much lighter sound and talks about being saved from herself. Once again, Sia's wide range is the star of the show, proven when she repeatedly hits impressive notes.
While Sia's style of work may be debatable, her talent is not. Sia has proven herself a great artist by taking complex compositions and transforming them into reality with an extravagant voice and powerful messages. Sia's genius is undeniable, and it is safe to say that I have become a fan.
About the Writer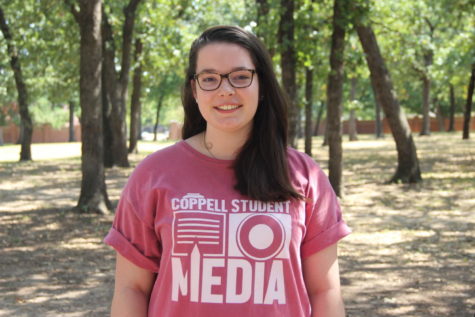 Elena Gillis, Graphic Design Editor
Elena Gillis is a senior and the graphic design editor for The Sidekick. She is an International Baccalaureate diploma candidate. She has an inexplicable...