The game that got away: Cowboys lose OT heartbreaker
ARLINGTON – In a gut-wrenching turn of events as the clock wound down in regulation, a buzzer-beating layup to win did not get the roll, and after Coppell simply could not keep up in overtime, Duncanville pulled out the 72-61 Class 6A bi-district victory over the Cowboys at Arlington High School.
With two minutes left to play, senior guard Josh Fink, who had one of his best games of the season with 20 points and disruptive defense throughout, scored six straight, giving Coppell a 50-45 lead. Duncanville, however, drilled four free throws, pulling within one. Junior forward Sam Marshall drove into the lane and scored with 38.5 seconds remaining, extending the Cowboys' lead to 52-49.
With six seconds left, Duncanville knocked down a clutch three-pointer, tying it up at 51. With 1.8 seconds left, Coppell's shot was blocked out of bounds, giving the Cowboys the ball on the sideline.
Coppell coach Kit Pehl drew up a perfect play, freeing up an open alley-oop layup for the win. The Cowboys simply didn't get the bounce, forcing overtime against Duncanville for the second straight year.
"It's unfortunate we didn't pull it out," Fink said. "We're definitely capable, and we had opportunities to do so."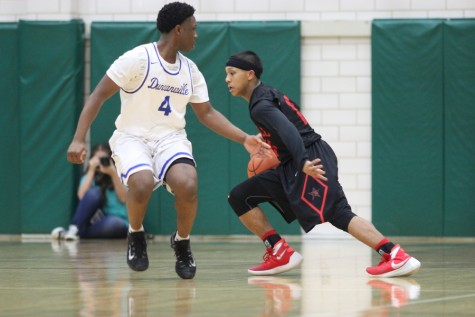 After the deflating end to regulation, the Panthers jumped out ahead of the Cowboys early in overtime and never looked back.
"We played a gutty game," Pehl said. "This game wasn't much different than any game we've played this year. We just didn't get a bounce late, didn't get a layup to go, but in terms of effort provided, this is exactly what I expected from our guys. We just did everything but win. I'm proud of our guys."
Especially after agonizing loss as this to end a season, it will not be easy for the Cowboys to forget throughout the offseason.

"It fuels offseason," Pehl said. "Guys that aren't capable of certain things, they take this and turn it into positives. They remember these moments when they were too weak on the finish with their weak hand, or going hard with their weak hand, or with the bounce. We'll just use this to get better because you're limited with what you can do when you go up against the best.
While this season ended in ended in agony, there are big things yet to come for the Coppell basketball program. A district championship from a team with many underclassmen making big contributions, this group is sure to be back soon.
"The future's bright," Fink said. "We have young players that obviously contributed on varsity. We have a lot of JV guys that are going to contribute a lot next year. Coach Pehl and his staff are really good at developing players. The team's going to do really good next year. I would love to be with them."