We mean business: CHS BPA qualifies for state competition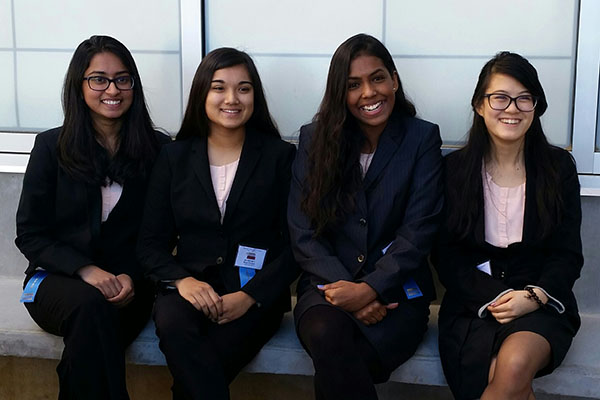 Typically when a competition is announced or heard of, it is a form of sports. This time, however, it is a competition of students who are training to be the future of the corporate world that are worth the attention.
Coppell High School's Business Professionals of America (BPA) club attended a competition at Dubiski Career High School on Jan. 27 in Grand Prairie. At competion, members competed against other schools in business type events, such as the ability to make and create spreadsheets to payroll accounting, in order to obtain the top scores and win the competition.
"Coppell did very well as well we had 120 people participate and we had about 85 advance to state so it's almost three fourths of the club," senior BPA officer Meghana Vankina said.
BPA is one of the many clubs on the Coppell High School campus that allows students a glimpse into a career path. Although it appears as just a club, BPA inspires professional careers in business.
"What's really nice about this experience is that I learned a lot about the professional world," Vankina said. "It is a judged event so I learned how to dress appropriately and how to work the angle and how to be a part of the business world."
BPA is a program for students to learn how to work in a professional environment, as well as allowing them to compete and build skills that are necessary for the competition of getting the real world job market.
Members of this program can compete in events such as marketing or managing, allowing them to build a base in their aspired profession.
"I like how it gives a good experience especially if you want to go into business," junior club member Rhea Tibrewal said. "There are a lot of events to choose from and within those events, you have to research and practice. For individuals there are tests and judged events so if you want to go into business or marketing, you need to know how to talk and how to sell your product."
At competitions, members do not all participate in the same event. The program works as a track team with teams and individuals qualifying and specializing in single events, but working to better the team as a whole. Like all sports, members of BPA have friendly competition  but being a part of the Coppell team unites them as one.
"Since there are a lot of people [in BPA], it brings a sense of community," Tibrewal said. "You can make new friends because we are all in the same boat and have to come up with different ideas and practice for tests, so everyone can help each other out. Especially of the are in the same event. Obviously there are some people who trash talk each other, but in all honesty we help each other a lot."
The sense of community in the club carries over from the participants in the same events with mentorships from the officers and previously ranking members.
"We don't just have one mentor for us all, there are mentors for each section of events. That is what makes BPA different from other clubs," senior BPA member Sanjula Yella said. "For example, if a returning member qualified for state previously in an event and a new member is competing in the event, they can get pointers so that they can do well in the event."
The bonds between members not only help them to become the best they can be, they push each other to be the best, most responsible business professional they can be. As well as staying competitive at events; allowing members to advance to more competitions.
"With 126 kids  had to really take care of themselves [at regionals] until 5:30 when the award ceremony started because we worked regionals. I was down there about 3 times, and every time I was down there 126 kids-on their own-were fabulous, they did a great job", club advisor Cindy Wolfe said. "For that many kids, not being able to get to them, they did a really great job I was very impressed. [Starting with] 126 down to 77, thats not that many kids who don't get to  participate in state."