Heartbreaking loss ends Cowboys' bid at undefeated district play
After madness in the final 20 seconds of play led to Coppell's possession down by one point with two seconds remaining, the odds looked as if they could be in the Cowboys' favor. As close-game finishers all year, the team simply needed to knock down one more shot to stay undefeated in district play.
However, as the seconds ticked off the clock, the final shot just missed off the back of the rim, giving L.D. Bell (6-14, 3-4 District 7-6A) the 35-34 victory over Coppell (19-4, 6-1) in one of the most exciting, heartbreaking finishes of the year.
With 20 seconds remaining, the Cowboys trailed 35-31. They took the ball down the court, and were able to get an open look for senior guard Peyton Chun, who nailed a corner three to bring Coppell within one.
After Coppell fouled the Blue Raiders' point guard, Bell simply needed to make their free throw to put itself ahead by three. However, they missed the first free throw, and junior guard Christian Plummer secured the rebound with five seconds left to play.
This is where the pandemonium began. After receiving the rebound, Plummer threw the ball down court, but overthrew freshman guard Tariq Aman, giving Bell the ball back and effectively icing the game. However, before he passed it, Coppell coach Kit Pehl called a timeout, ensuring that the ball stayed with the Cowboys.
For almost five minutes, coaches, players and referees alike discussed who retained possession and how much time was left on the clock.
After it was all said and done, Coppell had the ball on the near sideline with 2.6 seconds to go. They got the look they wanted, but as had happened all game, they simply were not able to convert.
"We won a lot of close games this year," senior guard Josh Fink said. "That's really helped us out. That has been a big part of our team, is that we find ways to win. We didn't tonight, but we just need to continue to win those close games, especially this latter half of district."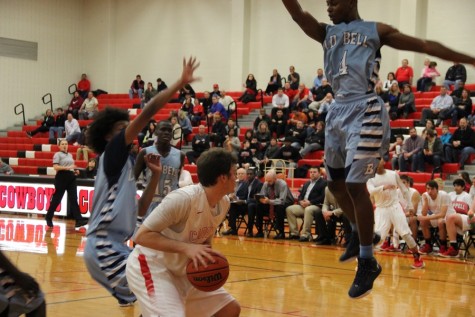 Throughout much of the first three quarters, the offense for both sides were simply unable to get rolling, leading to the lowest scoring game of the year for the Cowboys.
"We made some mental errors in terms of where certain players are supposed to go on this particular play and things of that nature," Pehl said. "It really stifled our momentum, and we shot the ball average. You have to give L.D. Bell credit, it wasn't all self-inflicted wounds. But there were definitely some mental mess-ups in terms of execution."
This Friday, the Cowboys tip off against rival Southlake Carroll, who, in their first meeting this season, Coppell won 43-42.
"Every single team that we play does something different defensively," Pehl said. "Southlake's Friday. They play a variety of defenses, and what we're going to have to do to execute is going to be completely different than what we had to do tonight, so it's just a matter of being prepared and executing.
"You hate to lose, but if this roars our engines, we might look back at this and say it's a springboard for us. That's my hope."