Arndt's passion for art integrates into teaching career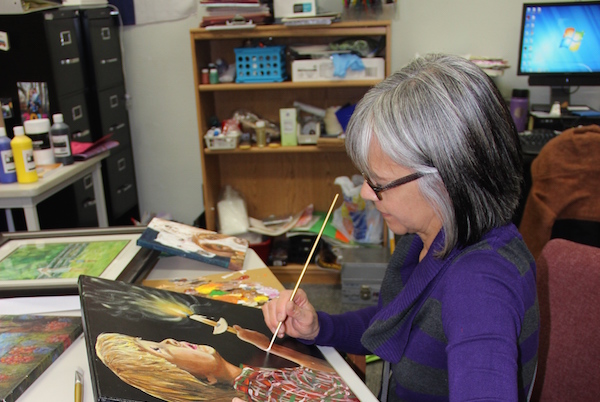 Babe's Chicken Dinner House in Frisco is home to not only famous, family style country food but also artwork by Coppell High School's Special Education teacher Deb Arndt.
Arndt was always recognized as a girl for her talent in painting. In high school, she showcased her paintings in various galleries and craft shows, and soon began selling them.
Today, she continues painting and teaches an applied art class at CHS where she is able to incorporate her knowledge and love for art in the classroom, where she helps special education students gain life skills through painting and crafts.
"I love working with those that struggle the most," Arndt said. "That's why I love my applied art class. If you feel successful and accomplished, you generalize that in other aspects of your life too."
Fellow Special Education teacher Lynn Alcorn recognizes her colleague's talent in art and how it helps her in her applied arts classroom.
"[Her experience with art] helps her with her creativity and I guess that's why we work so well together, because she sees the whole picture and I fill in the details," Alcorn said.
Apart from teaching these classes, Arndt and Alcorn began a program called "Turning Art into a Vocational Purpose" in which students are able to sell the artwork they create in their applied art class and turn it into an educational experience.
"We wanted to be able to raise some funds to help supply materials for our kids and Ms. Arndt did 99 percent of that," Alcorn said. "It was an educational process that allowed them to have fun and turn their art into a vocation.
The program, in which students sell cards with their artwork on the front, helps students learn various job skills through the process of folding the cards, packaging and selling, as well as raises money for future art supplies. However, Arndt wanted the most important outcome of the program to be the experience the students get out of it.
"I wanted to set up a process for these students to set up a vocational goal where they can take a product and sell it and make them feel good about themselves," Arndt said.
Arndt and Alcorn have received two Coppell Education Foundation grants because of their work with the "Turning Art into a Vocational Purpose" program.
Outside of school, Arndt continues to paint and has had artwork hung in the Frisco courthouse, and in Babe's Chicken Dinner House in Frisco.
Arndt also sells her paintings online, many of which are portraits of dogs done in acrylic.
In the past five years, Arndt adopted two dogs which quickly became the subject of her paintings. The paintings gained popularity and are now Arndt's top-selling artwork.
Apart from the numerous dog portraits, the subjects of Arndt's paintings are largely influenced by her life experiences. Her work includes various paintings of angels done in watercolor and landscapes of the different places she has lived.
"Depending on what I'm doing, my artwork will go up and then go down," Arndt said.
Peer aides in her team work class also notice the way art has helped her in her life, especially in her teaching career, as she is able to capture her life experiences while having fun.
"She's really patient and [art] helps a lot in that"," CHS sophomore and peer assistant Ryan Rutherford said. "[Art probably] makes her a lot more calm and relaxed."
Arndt thinks this talent and love for painting has helped her grow as a person throughout her life, and is a big part of what makes her who she is.
"[Art] makes me feel really good about myself," Arndt said. "It makes me feel confident in who I am. It has helped me in every aspect of what I do in my career."
Arndt's artwork can be viewed at http://deb-arndt.pixels.com.