Ladies, stay in style with these winter trends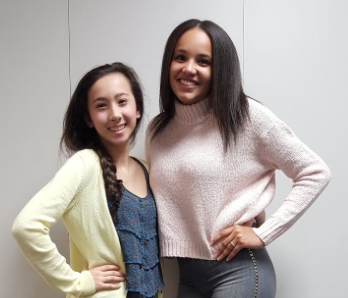 By Jamie Kimbrell
Staff Writer
@jaynicole2015
Although in Coppell there is not normally the same amount of cold weather as the rest of the nation, it is still time to break out the sweaters and scarves, and transition your wardrobe from cooler, lighter clothes to warmer, heavier clothes.
Besides, it is really the only time of year when it is cold enough to be comfortable in cozy apparel. Ladies, follow these top winter trends to stay in style at Coppell High School.
Stripes are always in style. This easily makes them the most versatile trend of the year. Wear striped shirts by layering them under bomber jackets or under solid scarves. Style long-sleeved striped shirts under vests or cardigans on especially cold days for added warmth. You can also style your striped summer dresses over tights on days you want a classier look.
In this chilly season, layering is key. The trend is layering clothes with different, basic patterns. You can begin by styling striped shirts and flannels, over jeans or a T-shirt dress; add a jacket for more depth. You can also sport this trend by wearing a scarf on cooler days. The possibilities to style this trend are endless.
Winter weather is sweater weather. It always seems that when the weather gets cooler, there is nothing better to wear than a cozy, knit sweater. Change up your style by wearing large knit patterns. They add texture and an extra comfortable layer of warmth to your outfit. Style oversized sweaters over leggings or jeans on days you want an effortless, yet stylish outfit.
However, the most popular trend from a survey of female students at CHS, says that the number one trend is styling oversized long-sleeved T-shirts over leggings. They say that this is the most comfortable and cozy trend to wear during the winter seasons because it is as comfortable as wearing sweatpants, but more stylish and generally cuter to wear.
As these trends are popular for the season, you can find them on a quick trip to the mall or by shopping online. Some stores such as Forever 21 and H&M have each of the changing styles for every season in a moderate price range. Check them out at the Grapevine Mills Mall or online to participate in these trends before the season ends.