Magical experiences, awards at 2015 fall JEA/NSPA convention
Rachel Buigas-Lopez
Editor-in-Chief
@rachelbuigas
ORLANDO, Fla. – The sunshine state greeted The Sidekick and KCBY staffs with 80 degree weather, a cookie from the DoubleTree hotel and a bright blue "Media Magic" shirt. The 2015 JEA/NSPA Fall National High School Journalism Convention did not fall short of its magical expectations.
The name "Media Magic" is reflective of the Magic Kingdom, Harry Potter and the Orlando Magic NBA team in the area. Further, it is meant to reflect the work young journalists put into their yearbooks, magazines, newspapers and broadcast programs, according to JEA/NSPA.
With over 6,000 attendees, "Media Magic" was held along Disney's Boardwalk in Orlando, Fla. on Nov. 12-15 and was full of learning, competition and fun. Opening with a keynote by Sports Illustrated reporter Andy Staples, the following days were spotted with breakout sessions ranging from write-off contests to "the magic of the interview."
With the convention's proximity to Disney World, the attending Sidekick and KCBY staff members enjoyed their evening, after a keynote by National Public Radio TV critic Eric Deggans, at Magic Kingdom. Mickey's Very Merry Christmas party was in full swing equipt with foam snow, free hot chocolate and cookies, holiday themed parades and plenty of christmas lights illuminating the trees and Cinderella's castle.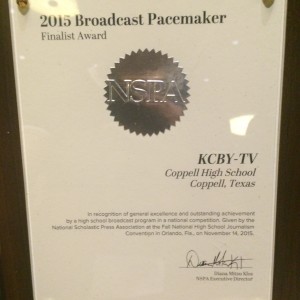 When it came to awards, KCBY and Coppell High School alumnus and former Sidekick Editor-in-Chief Alex Nicoll were recognized. Nicoll received fifth place Sports Story of the Year for his article "Athletes face pressure on, off the field." Senior KCBY program director Nick Wilson and Coppell High School alumnus Hailey Hess also received recognition as fourth place for Broadcast Feature Story of the Year with their segment.
At every JEA/NSPA convention, the publications that are present can enter their products into a Best of Show category which is judged on site. KCBY received eighth place for Best of Show Broadcast Program.
The big win for Coppell High School media programs was KCBY being named a Broadcast Pacemaker award recipient for 2015. They had been notified earlier in the year that they were a finalist for the award, which is an honor in it of itself.
Both The Sidekick and KCBY are planning to attend the 2016 Spring JEA/NSPA Convention in Los Angeles later this school year.