Girls soccer feels pressure to succeed after championship run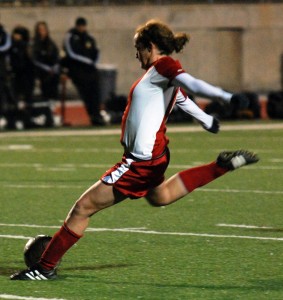 by Blake Seitz
Sports Editor
Highly successful teams always feel the heat—from their fans, from the press and from inside the organization—to stay on top.
The girls soccer team, with its strong cast of returning players and number one rankings in the state and in the nation, is no exception.
Just four games into the 2010 preseason, the Cowgirls were already limping along with a lackluster record, 2-2.
The transition from last season's championship team to this season was obviously going to be tougher than expected.
Head coach Chris Stricker describes the losses as regrettable but important as the team continues to experiment and grow.
"I scheduled a hard preseason on purpose because it's humbling to lose," Stricker said. "Our district is hard, so we need to know where to improve."
Although the team lost few starters to graduation last year, it is reeling from the loss of what Stricker calls 'chemistry players,' those who bring the team together through their actions on and off the field.
Veterans from last year's team, like senior captain Alyssa Diggs, have noticed the difference in team cohesiveness and are working to address the problem.
"We need to work harder to become a cohesive unit," Diggs said. "We have a lot of new talent, so if we work together we can do anything."
New players also recognize the divide between last year's team and its 2010 counterpart.
"We're still playing like individuals, so we need to figure out how to utilize our talent as a team," first-year starter and junior Abbey Hansen said. "We've still got a ways to go."
With the regular season looming large on the horizon, however, the clock is ticking for both new and returning players to step up and fill the shoes of last year's team—quickly.
Stricker thinks he's found a way to expedite the process through a course of action that can only be described as trial by fire.
"Last year I learned that it's not all about wins and losses, but about putting players in a position to grow," Stricker said. "I don't put eleven starters on the field. Instead, I put a few second-string players in with my starters to see how it goes. It gives those players a taste of how they'll perform in the big pressure-cooker games."
This method can be unnerving for players, but its track record proves its efficacy. Testament to this is senior Erin Barlow. Barlow, a defensive mid-fielder, entered the 2009 season as a third-string player. As she was given playing time, however, she proved herself and ended the season a starter.
The current team will need more stories like Barlow's in order to compete against tough district opponents like Hebron and Flower Mound Marcus. This will require a special effort from the team's new, fresh talent.
This can be intimidating, especially because 'fresh' is often a literal term.
"It's hard to try to come in and play at this level," freshman Page Jacobs said. "I don't want to be the freshman that comes in and messes things up."
Fortunately, the team's veterans are doing a good job taking the edge off that initial nervousness.
"The older girls are all really encouraging," Hansen said. "They try to make you feel like you're not new."
Clearly, a number of things need to happen for the Cowgirls to regain their former glory.
Until they prove capable, the pressure is on.

Original Video – More videos at TinyPic