HOSA club team takes first place at state, club advances to nationals
By Pranathi Chitta
Staff Writer
@prannydacheetah
Although Dallas may seem to close to home for a competition, the city did not disappoint when the Coppell High School Health Occupations Students Association (HOSA) club took part in the state competition on April 9-11.
With over 3,000 students competing, advancing to the national competition was not an easy achievement for the Coppell competitors.
"Honestly, we weren't expecting first place at state," CHS junior Asutosh Dhakal said. "We were already so proud of ourselves for making the state competition. Nationals is truly [a] dream come true."
Dhakal and his team's event was Public Service Announcement, where his team had to make a 30 second video of this year's topic, Concussions: Recognition, Prevention and Treatment.
"Our preparation mainly consisted of the presentation portion of our event," Dhakal said. "After showing the video to the judges, we receive four minutes to explain our creative process. For state, we only changed the content of our presentation, making it more specific and detailed."
At regionals, Dhakal's team placed second out of 40 teams and competed against 21 teams during state.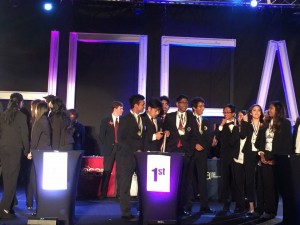 "State competition was much more fun [than the regional competition]," CHS junior Eugene Han said. "It was not only for a longer period of time, but also away from home. We were given much more freedom to appreciate the time at state."
Han and Dhakal found the state competition to be very enjoyable especially during the "Hip Hop – Hooray event," an event where students got the chance to dance, sing and have a great time.
"It was a great bonding moment for us as a team; we let go of the real world for a while and enjoyed life," Dhakal said. "We knew at that moment, regardless of the result the next day, we'd always be a team."
The teams that advance to nationals consist of Public Service Announcement and Community Awareness, which adds to a total of 10 students.
" I am so proud of CHS HOSA's success this year," HOSA Sponsor Debra Johnson said.
Johnson said that she is excited for the CHS HOSA Officer team of Sheetal Hariharakumar, Hriju Adhikari, Vinootna Kantety, Nikita Nasta, Sanjuktha Pendyala Sravika Kayithi, Meghna Suresh and Ari Randell advancing to National and representing the members in competing for Outstanding HOSA Chapter.
"I really did not know how far I would get, because I moved here from Alabama," CHS junior Vinootha Kanety said. "When I was in Alabama, my team advanced to nationals two years in a row. However, Texas is different because it is a much bigger state."
Kanety participated in Creative Problem Solving where her team was given a problem concerning health issues in the world today. Since Kanety did not advance with her team event, she decided to also participate in the Outstanding HOSA Chapter, an event where the team is asked to make a scrapbook before competition to represent Coppell's chapter.
"All we had to do for the event was drop off the scrapbook for judging and then pick it up before the awards ceremony," Kanety said. "However, there were probably minor details within our scrapbook that could have been improved."
Nationals will be held on June 23-28 in Anaheim, Calif. where students will not only compete, but also enjoy visiting Disneyland and Universal Studios.
"For state, our presentation was spot on," Dhakal said. "We don't plan to change anything for Nationals. All we can do now is practice, practice, practice."