11-year-old culinary creationist from Coppell lands spot on MasterChef Junior
Video by Madyline Baucum and Marisa Thakady.
By Sloane Samberson
staff writer
@sloane_averys
You may have seen a familiar face on the MasterChef Junior's premiere last Tuesday, Jan. 6. Coppell Middle School West sixth grader Ryan Kate Brandenburg is one of 19 lucky contestants who landed a spot on MCJ's third season.
MasterChef Junior is a cooking competition for the best 8 to 13 year old chefs across the nation. Their job is to cook creative, tasteful and beautiful dishes for judges Gordon Ramsey, Joe Bastianich, and Graham Elliot to critique.
Making the cut for the show was not easy. Brandenburg had to audition by filling out an application online, then going to an open call in Dallas where she had to do some simple tasks like cook an egg, cut celery and measure water. She was then shown a series of flashcards with various kitchen appliances, tools and equipment to identify.
"Later that day I was notified that I was being called back to do an on camera, 30 minute cooking demo in a full kitchen," Ryan Kate said. "The next step was to submit a video of my home and family, then complete a mountain of paperwork."
When she found out she had made it, she was beyond overjoyed.
"I was on a camping trip with my family when I got the news that I had made it," Ryan Kate said. "My mom got a call from MCJ so she stepped away and when she came back she had a box in her hands. Inside there was a T-shirt that said "I'm leaving you for LA" and I [said] 'Wait does this mean…?', I started screaming and jumping up and down."
Ryan Kate has much experience with cooking in her 11 years. When she was a toddler, she spent a lot of time in the kitchen interested in what her mom was cooking.
"Ryan Kate would crawl up on the kitchen counters when I was cooking in the kitchen, she would always be in there with her hands in it," Ryan Kate's mom Cristy Brandenburg said. "She was just interested, very curious and wanted to know what was in whatever I was cooking."
Besides bringing Brandenburg excitement and enjoyment, she has found that cooking also has its other benefits.
"Sometimes I cook because its a stress reliever, like I'll come home from a hard day at school and cooking absorbs me and I forget about everything else," Ryan Kate said.
Each episode the contestants reveal a mystery box containing ingredients for what they have to cook with for that challenge.
"When I opened the first box, I knew I was going to use the salmon and make a savory dish," Ryan Kate said. "I like making savory dishes, where I can just experiment, whereas baking and desserts need to be more precise, and its hard to remember the exact measurements."
Working with the judges has been very fun for Brandenburg. Bastianich and Elliot were both very nice and funny, but Brandenburg had a little more to say about Ramsey.
"Well, Gordon, is like a light switch, sometimes he's really pleased with what you have done and he's really nice, and then when he's not as pleased…it can get ugly," Ryan Kate said. "It's not like he yells at you for no reason. You have to do something wrong to make him yell at you."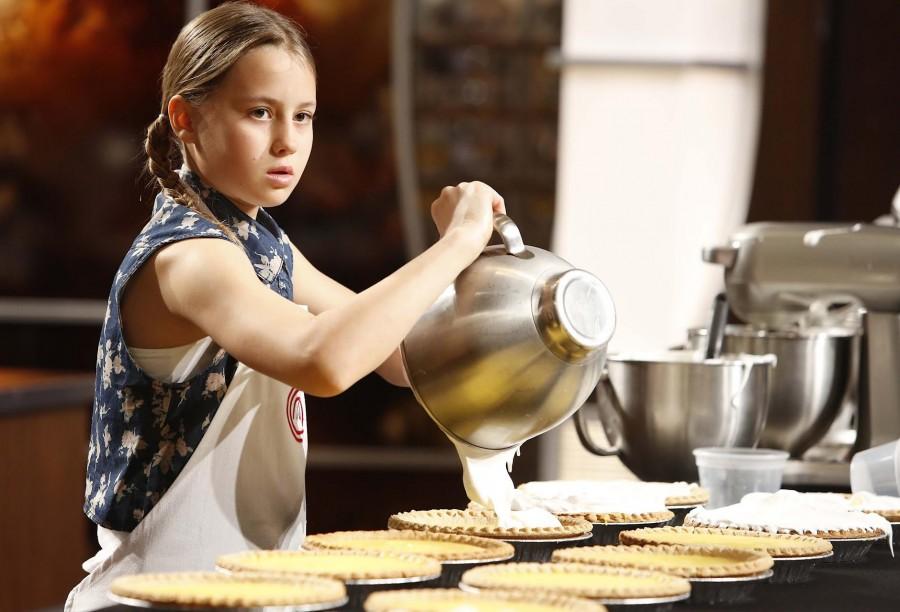 Coppell has been very supportive of Brandenburg. They even threw her a watch party for the first episode at GracePoint Church's student center.
"The community's support has been overwhelming," Cristy said. "From Facebook comments and encouragement, to people bringing her flowers and gifts. We had a whole lot of people praying for her when we were in Los Angeles to support her at home and offer prayer support."
Brandenburg's parents have been supportive of her all of the way. They support her financially, but most of all emotionally by praising her, even when an idea seems unfeasible.
"Full freedom in the kitchen has been key," Cristy said. "I've given up "Let's keep it clean", I started letting her use sharp knives, and not too long ago, the stove. I taught her everything I knew, and now she's teaching me."
The competition is tough this year, but Brandenburg has a real chance at winning it all. If Brandenburg is to win, she will receive $100,000 and the renowned, MasterChef Junior trophy.
"If I win, I would like to save some of it for a car, college, culinary school," Ryan Kate said. "I'd also like to donate some of it to world hunger or hunger right here in our community, as well as research for cancer treatment."
Brandenburg is already looking forward to the future and her career in cooking.
"I would really like to become a restaurateur, like Joe, as well as cook in some of the restaurants," Ryan Kate said. "I'd like to have a couple of restaurants, then branch out around the world to cook all different types of cuisines. I would want each one of my restaurants to be different, no chains."
Tune in to this Tuesday's episode of MCJ on Fox at 7 p.m. in support of Brandenburg.