Hitz designs, creates her own prom dress, finishes just in time for big dance
By Elizabeth Sims
Enterprise Editor
With prom a day away, seniors are finalizing plans to make sure everything is just right for the big dance. For senior Kenzie Hitz, these finishing touches involve putting the last few stitches in her handmade prom dress.
Hitz began this endeavor after searching for the perfect dress online and in stores and playing with idea of altering a dress. When she could not find anything to suit her style, Hitz went to her engineering roots to create exactly what she wanted.
"I realized, 'I'm in engineering so why don't I just make my own?' so I just started designing what I wanted then became really firm in the idea of making it myself," Hitz said.
Once she set her mind to making her dress, Hitz set about picking the color and style of her dress. She settled on a white Athenian style dress, drew out her ideas, bought the fabric and set about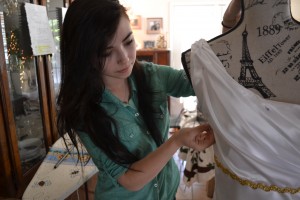 learning how to sew.
"I had no idea how to thread a sewing machine before this. The closest I had come to anything like this was fixing a hole in my shirt," Hitz said. "In STEM, you are so used to when you need something you just make it or fix it yourself, so it seemed pretty intuitive to just figure it out."
Hitz did not take on this task alone. Her boyfriend's mother Jan Streitwieser offered her sewing abilities to help the dress come together, despite not having touched a sewing machine in nearly five years.
"My role was to make her dream come true. She showed me the pattern and how she wanted it. We played with the material and had to modify the pattern," Ms. Streitwieser said. "I just helped her figure things out. She cut it out. She sewed the easier seams, and I did the harder seams because we were still playing with it."
A project of this magnitude did not come without its challenges, but Hitz and Ms. Streitwieser believe this adds to the uniqueness of the dress.
"My sewing machine did not actually work and I had to borrow my neighbor's," Ms. Streitwieser said. "The biggest snag was getting it to fit her body. The design of the drape [on the bodice of the dress] was a challenge because it had to be sewed into the side seam, but I think that is what makes the dress unique."
Hitz's boyfriend Michael Streitwieser was supportive of the idea from the beginning and watched the dress come together.
"She came to me with the idea originally, and I thought it was awesome but that it would take a long time. I knew she could do it but it would just be getting everything together to do it," Michael
said. "My mom and her dad were going crazy about getting it all together in time. I saw Kenzie and my mom working on it the whole time. I thought they were crazy at first, but then I saw the finished product and it's stunning."
After all of the work, Ms. Streitwieser is touched to have been part of the process to help Hitz get ready for this big night.
"This is her own dress and her unique design and something she will be very proud of. Senior prom is important because it's a chance to dress up and celebrate the end of 13 years of school," Ms. Streitwieser said. "I was very honored to be a part of helping to put her dress together."
At the end of it all, Hitz is proud of her dress and sees the process of making her prom special as a learning experience.
"You only get to go to your senior prom once. I am actually really happy with the way it turned out. I decided that if I didn't finish by Thursday of this week I would just go out and buy the first dress that caught my eye and be done with it," Hitz said. "It was just really fun even though I had no knowledge of stitches or how to hem something, so it was a learning experience."