House Bill 5 to restructure Texas education
By Christina Burke
Managing Editor
The State Board of Education has made some a big decisions changing the face of education as Texans know it. With the passing of House Bill 5, the graduation programs in Texas high schools will change drastically starting with the Class of 2018.
This change will impact the future of the Public Services (PSA), Emerging Media and Communications (EMAC) and Science Technology Engineering and Mathematics (STEM) Academics at Coppell High School. Under the implementation of House Bill 5, the Academy programs themselves will soon be disappearing to be replaced by five endorsement programs CHS will offer.
"House Bill 5 is set up so that if you're going through STEM, the CTE elective courses offered are all going to be STEM related," CHS associate principal Kayla Brown said. "The Academies will be phasing out, but they will continue for 10th grade and up [until the Class of 2016 graduates]. It will be reorganized because you can't really fit those two systems into one. Still the focus is on whatever the career of the kid is."
The endorsement programs offered by CHS next year are Science Technology Engineering and Math (STEM), Public Services, Arts and Humanities, Business and Industry and Multidisciplinary Studies. International Baccalaureate (IB) will be under Multidisciplinary Studies.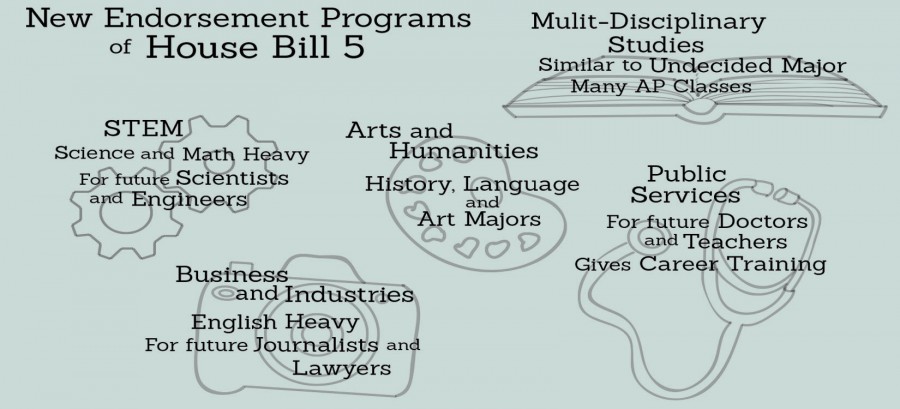 Much like the Academies at CHS, these endorsements are individual programs that help students focus in on a specified area of study for the remainder of their credits. However, the two programs have distinct differences.
"The Academies, in their current state, allow a select number of students to choose to go down that career pathway, but not every student is required to make a choice as an emphasis through high school," CHS Principal Mike Jasso said. "With the House Bill 5 legislation, one of the goals of high school graduation is to select an endorsement, and so every student will select an endorsement that they want peruse. Everyone will be making a choice, but it won't necessarily be as isolated in the current metaphysical term as the Academies are now."
For many years, students have tracked themselves through one of three graduation plans: Minimum Plan, Recommended Plan and Distinguished Achievement Program. Next year's freshmen will begin operating under the Foundation Plan.
This program will require four English, three mathematics, three science, three social studies, one physical education, two language other than English, one fine arts and five elective credits. Some endorsement programs will require more specific core classes according to their plans. The state has given the districts freedom to determine the rigor of their own graduation programs. Coppell Independent School District has been discussing options for additional requirements. A team of department chairs, program directors, administration and district curriculum construction staff has been studying House Bill 5 in order to create an implementation plan for CHS.
"The state has given districts a lot of flexibility with deciding what [the foundation plan] looks like," Brown said. "What Coppell is doing is that we have added a requirement to have students take Algebra II in order to be college ready. There is a lot of data that supports that decision. Also, we have required the third science credit to be physics."
Despite the changes to the basic graduation plans, the most important thing to know about House Bill 5 is that students will also be required to get an endorsement in addition to their Foundation Plan credits.
Jasso firmly believes that the implementation of House Bill 5 in CHS will better prepare learners for their future careers paths.
"One of the gains [of House Bill 5] is to get learners to begin preparation for their future at an earlier age," Jasso said. "I have what's called a guiding principle that says 'Learners succeed in a future that they create', and so I think that that aligns with my personal view that [learners] have more power and more ability to focus on what you want to do and what you want to be in the future and maybe get a better start in high school towards that."
Choosing an endorsement will allow students to explore potential interests, similar to the way college students pursue a major. Coming into this new program, some parents are concerned about their children having to make a decision that important so early in life.
"I am trying to be open minded, but I would prefer for the kids to get exposed to everything in high school and not have to pinpoint to a particular area I think that's what college is for," parent Kathy Quirk said. "I was a junior in college before I figured out what I wanted to do."
As the mother of a current CHS senior, Courtney Quirk, and Coppell Middle School East eighth grader, Michael Quirk, Mrs. Quirk knows that the next four years will be different than the last, but it will all work out.
"It's going to be harder on the parents than the students because it's a different process; I'm going to have to do things differently," Mrs. Quirk said. "It's not going to be hard for Michael because he doesn't know anything different."
A Learner Showcase will be held on March 17 for incoming freshmen to explore clubs and extracurriculars. On March 18, representatives from both CISD and CHS will be presenting information about the implementation of House Bill 5 both in the district and in the high school.
This event will take place from 5:30-7:30 p.m. in the auditorium.
The following week all three middle schools will visit CHS for their shadow days, and after that high school and middle school counselors will be meeting with students and parents to discuss the details of registration and the graduation requirements with the endorsements.
For incoming freshmen and their parents hoping to prepare for next year, the best thing to do is learn about the endorsements and their possibilities. Beginning the week following Spring Break, current eighth graders and their parents will receive more information on plans for next year. Though the plans for next year are still in the developing stages, House Bill 5 will be in full effect come the 2014-2015 school year.