Strategic planning overwhelms surprise element of prom
By Henriikka Niemi
Staff Writer
When looking forward to senior year, most Coppell High School students would imagine the last few football games, the relief of finishing college applications, receiving acceptance letters, senior skip day and senior overalls, but arguably the most memorable moment of senior year aside from graduation is prom.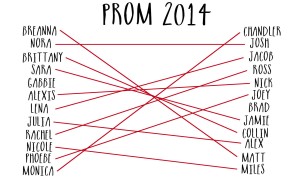 For decades, prom has been a traditional rite of passage for seniors and occasionally underclassmen, celebrating the last year of high school and providing an event where seniors can make one last memory with the friends they will soon be leaving. Dresses and tuxedos, dates and prom groups are all part of the prom culture, but with the maturation of younger generations, the surprise element that is typically involved has transformed into strategic planning months in advance.
Gone are the days when the first glimpse of a girl's dress are at the dance or pictures taken beforehand; instead there is a Facebook group for girls to post their dresses as soon as they purchase them. Admittedly this is a clever method to prevent repeats and it is quite necessary at CHS, with class sizes of 700+ students that seem to be expanding with every incoming freshman class, as there are limited styles of and even fewer stores that sell prom dresses. Every girl wants to feel special on their prom night, part of which stems from having a unique dress.
However, posting dresses to social media detracts from the intended surprise of the actual event; girls take hours to prepare with hair, makeup and nail appointments beginning early in the morning on the day of and the dress and shoes picked out weeks before. Prom is the time to get dolled up, different from your daily attire, and the surprise is all part of the fun.
In addition, with prom now slightly over a month away, the majority of seniors already have their prom groups established and details of pictures, dinner and after parties already set. Although these are necessary plans to make, the amount of conflict and arguments that stem from them is frankly ridiculous. I have heard of fights over dresses and between friends who wanted to take the same guy as someone else or who were excluded from a prom group.
I certainly do not expect everyone to get along, but what is the point in fighting over such minor details? Looking back on prom in 20 years, I probably will not remember how I styled my hair or where I went to dinner, but rather the friends I spent the night with and the things I experienced.
In the end, these details are insignificant compared to the overall event, especially since prom represents the end of high school and the beginning of a new era in college, where we have to find new friends and be completely independent. It is best to embrace every last opportunity to spend with your fellow seniors and not let specifics and strategy overwhelm the experience.