Fisher takes Grammys red carpet by storm with fierce makeover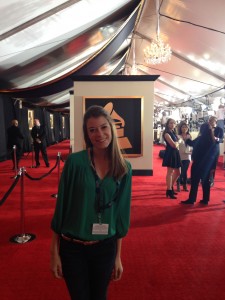 By Christina Burke
Managing Editor
Passer bys did a double take as Miley Cyrus walked around Los Angeles prior to last month's Grammys but at second glance, they might have unknowingly seen Coppell High School senior Jill Fisher.
Through some interesting connections, Fisher and The Sidekick's photo editor, senior Regan Sullivan, flew to Los Angeles on the weekend of the Grammys for a once in a lifetime experience. Fisher got the unique opportunity of a 'Miley makeover' by offering to participate in the "Good Girls Gone Bad" segment of E!'s Countdown to the Grammys show as Miley Cyrus.
America saw Fisher go from a girl next door to an edgy Miley Cyrus look alike in the time span of about an hour. From bold leggings to long nails that spelled out "M-i-l-e-y", she got to display her new look on the red carpet of the Grammys with E! hosts.
"I'm usually a really nervous person, but for this, I was so excited that I didn't even let it phase me," Fisher said. "Being on the red carpet was totally different than I imagined. I didn't freak out, I didn't get overexcited, I was just chill."
This opportunity began with a Facebook comment from Jill's sister, Los Angeles resident and CHS 2003 graduate Megan Fisher. Megan is well aware of Jill's ambition to someday cut her hair when she saw a status from a friend who works at E! seeking a volunteer to cut their hair for the segment.
"I playfully let my friend Cat, who works for E!, know about Jill and she immediately took it seriously," Megan said. "I don't think she could have found anyone that would be willing to chop their hair off. Jill has always wanted short hair, so she was the first person I thought of. I told [Jill] if she really wanted to go through with the transformation, then all she has to do is show up."
Excited, Jill willingly agreed to make use of this opportunity and asked her good friend, Sullivan, to come along for moral support. The two CHS student journalists took note of how the camera crew worked to produce this segment.
"It was cool to see how it all happened and to be in LA during the Grammys," Sullivan said. "For the E! experience, it was interesting to see how they were trying to make everything look frantic when they actually had plenty of time."
Despite the alleged time crunch, everything that the E! team did to Jill made for a ravishing transformation. From outward appearance to attitude, whatever she was displaying had people enthralled, and she took advantage of it.
"The most memorable part of the experience was everyone gushing over how great Jill looked. Even on the red carpet and around all the stylists, people couldn't stop staring and complimenting her," Megan said. "She immediately got an edge about her that I only saw glimpses of before. She carried herself so well and wasn't scared to transform her look so quickly. I wanted to take her to Hollywood Blvd. to see how many autographs she could sign while dressed like Miley. I think it was the best day of Jill's life."
Even weeks later, Jill is completely content with her transformation and is thankful for a weekend she will never forget.
"It was really cool that they actually made me look like Miley, it was kind of scary," Jill said. "But after I took off all the make-up and I got to style [my hair] on my own, I felt really happy that it happened and I didn't regret anything. I've always wanted my hair like this, and it was just a crazy blessed opportunity to cut it."