Incentives motivate students to volunteer
By Henriikka Niemi
Staff Writer
Without fail, when I am signing in to volunteer at Christian Community Action the first words I hear are, "Have you signed your name in the court mandated service log?"
The first time I heard it I was surprised that they assumed I was doing community service as a punishment, but I have since learned to expect and even understand where it comes from. I do not blame the CCA staff for inferring I was forced to be there because that is often the case for teens, who need incentives such as court exemption or extra credit to inspire them to help their community.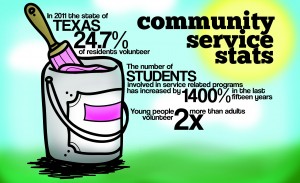 Incentives take away from the selfless aspect of community service, but this does not make a difference when the end result is the same.  The homeless are still benefitting regardless of what motivation brought a student to the shelter in the first place.
National Honor Society, National Spanish Honor Society and other organizations' purposes are to bring students together to make an impact on their local community.Though some participants only join such organizations to add to their resume, it still accomplishes this goal. Students may not want to participate in community service, they may be counting down the seconds until it is over, but they are still helping someone in need.
In addition, at Coppell High School these organizations are a stepping stone for students to inspire them to take action in their community. They are active at their church, animal shelters, the North Texas Food Bank and countless other volunteer organizations. NHS, NSHS, and other community service oriented clubs expose students to the experience and they may be influenced to go even further on their own time.
The use of incentives is a necessary evil; without them, we would see drops in the number of students who complete community service. Take NHS for example. There are over a 300 students in the organization at Coppell High School alone, each of whom completes 16 to 20 hours of service each school year depending on their grade level. If we did not have NHS, a good majority of these students would not have either the opportunity or the motivation to volunteer.
Obviously, not everyone needs incentives. Many people find enjoyment in volunteering and some pursue issues that are close to their heart. However, there is never a time when a person does not receive anything in return for their service. Is it not the case that someone gets "rewarded" for their service when it boosts their self-esteem, self-worth or makes them happy?
We are all awarded with something from completing community service, tangible or not. Incentives are simply a material way to achieve the same objective that all community service organizations have.
Some schools around the country have even made community service a requirement for graduation. While this may be a bit extreme, organizations like NHS are the happy medium. It is still voluntary to join and students know what they are signing up for.
In the end, the point is that we are spending our time uplifting or helping someone else, in spite of what persuaded us to do so in the first place.