New kayak company offers urban adventures in Coppell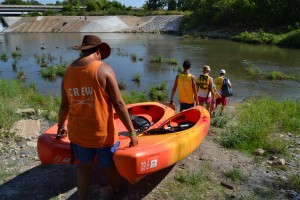 By Kristen Shepard
Editor-in-Chief
Just around the riverbend, or down Sandy Lake Road that is, lies Trinity River Kayak Company –Coppell's first outdoor adventure company.  In the month and a half that Trinity River Kayak Co. has been open, their friendly staff have taken dozens of families, couples and students on an urban kayaking adventure.
Coppell and kayaking do not traditionally mix, and when local realtor Jeff Varnell first explored the property, he was surprised to see how much potential the two acres on East Sandy Lake Road had. Initially the property was intended to be developed into a small residential neighborhood, but Varnell and his wife Pam, came up with the idea to build a kayak rental company.
They took an old fishing and bait shop and remodeled it to add a kayak showroom. Not only does the company sponsor kayak rentals, it offers demos and sells kayaks to locals. With a plethora of services and goods offered, Trinity River Kayak Co. is truly flexible to the needs of its customers. Their staff, primarily of high school students,  shares this excitement.
"It is Texas, wildlife, outdoors and the river," staff member A.J. Date said. "I can't think of a better combination."
Trinity River Kayak Co. allows residents to experience a kayaking expedition in their own community. So far, kayakers from as far as Waxahachie and Red Oak have visited Trinity River Kayak Co.
"Most of our visitors have been from the DFW area, but we have taken people from hours away on trips," Date said. "Before we opened, the nearest river to easily kayak on was in New Braunfels, and that is a four hour drive."
Pam and Jeff Varnell took consideration of the other opportunities their property presented. The main building serves as a convenience store and sells items including drinks, snacks, fishing equipment and bait. The Varnells are proud to announce that just recently, the shop can issue fishing and hunting licenses. Trinity River Kayak Co. is the only vendor in Coppell that sells these licenses.
To book a trip with Trinity River Kayak Co, log on to their website and use their online booking system. Once a trip is booked, customers can arrive at their scheduled time to start their brief orientation. After learning how to operate the kayak and getting fitted for a life jacket, visitors will either be shuttled to their starting place or launched from the site, depending on which voyage they sign up for.
"We offer three different trips, with different lengths, locations and prices" Pam said. "We are more than willing to work with the times that work best for the community."
Trinity River Kayak Co. is conscious about safety, yet the river is not particularly dangerous. The Trinity River is a flat-water river, as opposed to more active rivers which are classified as whitewater. However, just because the river is flat does not mean that the trip will be lackluster.
"It's an urban adventure, and there will be rocks in the river and wildlife. The trip itself takes between two and five hours, depending on the experience of the kayaker and the trip taken," Jeff said.
One of the largest concerns the company faces is weather, and when temperatures begin to cool down, business may as well. Trinity River Kayak Co. plans to operate throughout the entirety of winter, as the calm river generally does not leave kayakers soaked. Wetsuits and outdoor wear can make up for the chilly temperatures.
Trinity River Kayak Co's journey in Coppell has only begun, and the Varnell's vision for the company is still expanding.
"Eventually, we would like to see a kayak club start up at CHS," Pam said. "We can accommodate groups, and we would love to work with more students from the high school. We hope that people will come to us when they are looking for a fun day outdoors, that is why we are here."