Taylor's Gift receives scholarship donation
April 22, 2013
Filed under News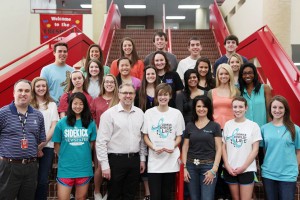 By Addy Buigas-Lopez
Business Manager
On March 23, dozens of athletes and volunteers huddled under the Andy Brown East pavilion as they waited to hear the signal for the end of a severe thunderstorm warning. After an hour delay, and entertainment from local band Backstage Disco, the three alarms sounded and the first ever Sidekick Strides for Life 5K and Fun Run was underway.
Despite unfavorable conditions, Sidekick Strides for Life managed to raise thousands of dollars towards The Sidekick and organ donation charity Taylor's Gift.
The Sidekick staff met with Taylor's Gift founder Todd Storch and event director Linda Medina today, in between their trips around the country for their new book, Taylor's Gift: A Courageous Story of Giving Life and Renewing Hope. Taylor's Gift received $1559 towards their scholarship program.
The Taylor's Gift Scholarship was first introduced in 2011 and has awarded two scholarships each year to students from Coppell High School and New Tech High @ Coppell. After a recent visit, Taylor's Gift is awarding five more scholarships to students in the Chicago area.
People who wish to apply for the Taylor's Gift Scholarship in the future may visit taylorsgift.org to apply. Applicants must share how they are making an impact in the world, in addition to exploring the importance of organ donation, to continue with the Taylor's Gift idea of "outliving yourself."
Scholarship winners for this year will be announced soon. Until then, continue supporting Taylor's Gift by wearing Taylor Blue nail polish from OPI and liking their page on Facebook.

Hang on for a minute...we're trying to find some more stories you might like.