42 a hit, but not a home run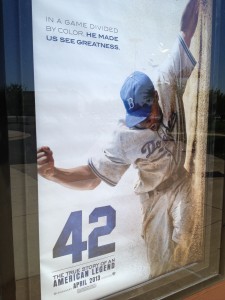 By Will Thomas
Staff Writer
Every year or two, there comes a film about one of the many advances African Americans have made in the world of American sports during the 20th century, and it is about time they got around to making one for baseball.
Branch Rickey (Harrison Ford), the executive of the Brooklyn Dodgers in 1945, decides to bring a black player into the major leagues for the first time in history. He selects Jackie Robinson (Chadwick Boseman), a shortstop for the Kansas City Monarchs, for his skill and his ability to stand his ground against racism.
The film has a ton of secondary characters. Robinson's wife, Rachel (Nicole Beharie) supports him throughout the film as he struggles. Wendell Smith (Andre Holland), a black baseball writer, is in charge of keeping Robinson safe and writing stories about him during the games. Leo Durocher (Christopher Meloni) is the manager of the Dodgers who tries to keep his team together. There is also a list of team members who are not worth mentioning because they hardly have any screen time. Alan Tudyk plays Ben Chapman, the racist manager for the Philadelphia Phillies, who relentlessly taunts Robinson during games.
Ford is fairly inconsistent in 42, in that he just switches between 1940s cartoon character and an Oscar caliber performance. He definitely packed on the pounds for this role, because this is the most bloated you will ever see Indiana Jones. Ford is almost unrecognizable as Rickey.
The role of Robinson is not a perfect fit for Boseman. However, I do not think any other actor could portray the frustrations and attitude of Robinson the way he does. He and Beharie have excellent chemistry onscreen. His performance will not win many awards, but he came as close as he could to nailing it.
Beharie does an excellent job of portraying Robinson's wife as a strong woman. Her character's willingness to stand up against segregation helps the audience understand the connection between she and her husband.
Tudyk plays Chapman well, in that he irritates the entire audience with blatant racial slurs and taunts. If the real Chapman were this obnoxious, I give Robinson a lot more credit than he already has. In the small amount of screen time he has, Tudyk really brings the character to life in one of the most offensive ways possible.
One of the better performances comes from Meloni, whose angry speeches toward the team leaves the audience more shaken than any of the actual racism. Meloni has too little screen time to make himself really shine, but credit must be given where it is due.
42 plays it a little too safe for a biopic about overcoming racism. The stakes never feel all that high. After a dozen scenes of crowds booing the black man, the audience starts to wonder whether it ever gets any worse. The movie tries really hard to add comic-relief, but a lot of the jokes just do not hit.
The film briefly touches on hate-mail, but never goes much further. It lacks a frightening act of vandalism like in Remember the Titans or Glory Road, where the black protagonist(s) are hit where it hurts most, at home. The worst thing Robinson has to worry about in 42 is dodging the ball being thrown at his head, and Tudyk's annoying Chapman screaming the n-word to no end.
It is by no means, a perfect movie. But 42 is entertaining, educational and inspirational. I would recommend it if you really want to learn what happened during Jackie Robinson's first season on the Dodgers. If you are looking for a great baseball movie, keep looking.
Rating: B+